Betty Crocker® Silicone Non-Stick Reusable Baking Cups (Set of 12)
Silicone resists stains and odors and is heat resistant up to 450(DEG) Fahrenheit.
For easy storage, bakeware can be folded.
Oven, microwave, refrigerator, freezer and dishwasher safe.
Not to be used on gas or electric stovetops, on hotplates or under broilers.
SKU # 13779260
Betty Crocker® Silicone Non-Stick Reusable Baking Cups (Set of 12)
14
16
Awesome and Buying More
My husband bought me these for Valentines after a ton of Food Network Shows and ideas in my head. I use these to make chocolate cups and the come out perfectly. I do have a little trouble with cupcakes sticking but think if you spray them it would be fine. and to clean them if stuff does stick flip them inside out and soak in some warm water for a couple minutes.
July 27, 2013
Very satisfied
Before I bought these I read the reviews and although some were not so good I thought I would try them myself. I ordered in the store and order arrived within two days. Since some of the reviews said that they stuck I decided to use Cake Goop on 10 of them and nothing on two to see how it worked. I put the Goop on with a pastry brush. The muffins all came out quite easily. I have difficulty with paper liners sticking and it is hard for me to use non stick spray since I have carpal tunnel. There was no bad taste either. The only complaint I have is the packaging the order was in. HUGE package for little tiny object.
May 8, 2013
Do you want food to taste like a scented candle?
I bought these off the rack at the store and didn't notice until I got home that they had a strong odor from the store (e.g. Yankee candle) I tried washing them several times, scent didn't go away. With only a short time before the birthday party, I decided to risk baking in them. Unfortunately, they made my cupcakes taste like a scented candle. Will return as soon as I can.
January 29, 2013
Best money spent
This is the best money I have spent on bakeware in a while. I was skeptical after reading the reviews. However, the people who had problems must not have used spray. I made high protein muffins without flour, which tend to perma-bond with wrappers. I sprayed the cups and when the muffins were done they slid out like butter!!!
January 13, 2013
Not worth it
I placed these on my registry thinking these would be amazing, but they are horrible and pointless. They are impossible to clean and leave a weird taste. The only time I use these is if my muffin pans are full and only with double paper liners to protect the taste. DO NOT BUY!!!!
December 28, 2012
NICELY FIT MY WILTON MUFFIN NONSTICK PAN
Got tired of spending $2-$3 dollars for disposable paper liners that sometimes didn't correctly fit my Wilton nonstick muffin/cupcake tin. Researched several reviews regarding several brands of 12-cup silicone muffin cup liners and decided to try Betty Crocker's brand as it was the only one offered in-store at Bed Bath & Beyond and I didn't want to order this product online sight unseen. Most reviews balanced out about 50/50 pros and cons so I kept my receipt in case the cups didn't work. The Betty Crocker muffin cups are small (short) IMO but they did fit nicely into my Wilton 12-cup non-stick muffin tin. Though silicone is nonstick, many reviews advised to lightly oil spray the cups before filling with batter. Worked like a charm. Baked cornbread muffins using my cornbread loaf recipe. I experimented using 2 silicone liners with 10 paper liners in the muffin tin. I cut the muffin baking time down to 20 minutes from 55 minutes on the loaf recipe and cut down the oven temperature to 390 degrees from the 400 degrees on the loaf recipe. The muffins were warm when we took the first silicone cup off and the muffin just fell out perfectly. The second silicone cup we cooled down for half an hour and it fell off even easier than the warm muffin when turned upside-down. I have every confidence that an overnight stay of a muffin in the silicone liner is going to be okay. The 10 paper muffin liners whether warm or cool stuck to the muffins and there were a lot of wasted crumbs stuck to the paper while the 2 silicone cups came out whistle clean and I just used warm soapy water to clean them. No crumbs were stuck to the bottom OR the side grooves. The cornbread loaf recipe made more than the 12-cup muffin tin could hold so I filled the silicone and paper liners almost to the top of the rim - only supposed to fill cups 2/3 full but I pushed it. The batter puffed up and spread out a little while baking but both paper muffins and silicone muffins came out of the nonstick muffin holes with no problem. I am keeping the Betty Crocker silicone muffin cups and never buy ill-fitting paper liners again. However, I will only use the silicone cups at home as they are too valuable to send out to a party. My supply of disposable paper cupcake liners will be fine for parties.
September 7, 2012
Finally got the Silicone baking cups!
Haven't used them yet but am looking forward to it. they will be so useful when making only a few cupcakes or for muffins,
June 8, 2012
Mine are wonderful
I bought these cups months & months ago. I never oiled them before putting my muffin mixture in and when they came out of the oven they fell right out of cup. I put the cups in my old muffin tin to cook and I cook them at the temp of 380 to 390 deg. for 21 minutes and that is the perfect temp. I'm going to buy some for my best friend.
February 17, 2012
Related Searches:
Similar Products: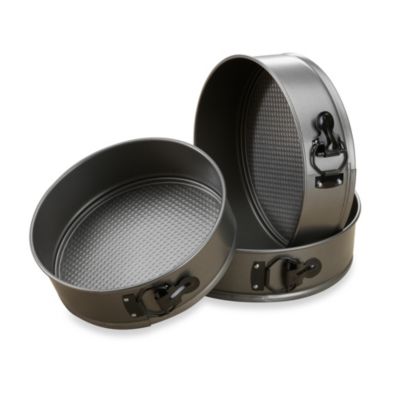 Betty Crocker® Non-Stick Springform Pans (Set of 3)
Price:
$14.99
Brand:
Betty Crocker
Categories:
Holiday & Gifts > Holiday Entertaining > Holiday Baking
Quick-release sides lock and unlock with ease so cakes come out intact. Heavy tin construction provides even heating and faster baking.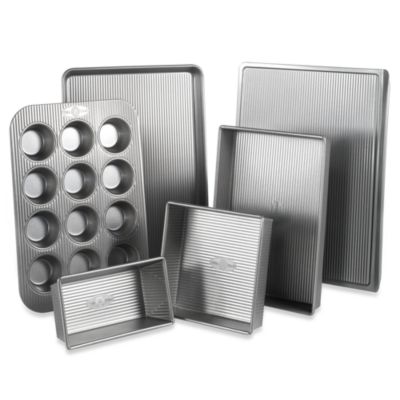 USA Pan Non-Stick 6-Piece Bake Set
Price:
$89.99
Brand:
USA Pan
Categories:
Kitchen > Bakeware & Baking Tools > Bakeware Sets
USA Pan 6-piece set includes a large 18" x 14" cookie sheet, 18" x 13" half sheet pan, 9" x 13" rectangular cake pan, 8" square cake pan, 1-pound loaf pan and 12-cup muffin pan.
Also check out:
$14.99

Exclusively Ours

(13 Reviews)

$8.99

Exclusively Ours

(1 Review)

$12.99

Exclusively Ours

(6 Reviews)

$9.99

Exclusively Ours

(1 Review)
$9.99

Beyond Value

(30 Reviews)

$59.99

$49.99

$50 Bonus Gift card with $300 Calphalon Purchase

Price reflects $10 instant rebate

(19 Reviews)

$6.99 - $9.99

Exclusively Ours

(5 Reviews)

$24.99 - $39.99
(14 Reviews)

$12.99

Exclusively Ours

(3 Reviews)

$9.99

Exclusively Ours

(9 Reviews)