BISSELL® Big Green Deep Cleaning Machine Professional Grade Carpet Cleaner
BISSELL Carpet Cleaner features a long-reach hose and tough stain tool to make cleaning stairs and other hard-to-reach areas easy
Cleaner also has a flow indicator that monitors water and solution levels, and it lets you know when it's time to check the tanks
Large capacity clean and dirty water tanks are removable to make filling and emptying fast and easy
5-year manufacturer's limited warranty
UL listed
Imported
Model # 86T3
SKU # 17793810
Bissell Big Green Deep Cleaning Machine Professional Grade Carpet Cleaner
When you need to best possible results and commercial grade durability, Big Green deep cleaning machine is the cleaner for you. It cleans better and dries faster than the leading rental carpet cleaner.
Deep cleaning is a process that sprays water and formula deep into your carpet. The water and formula, along with the brushes, aid in loosening dirt and ground in grit. It is then suctioned up, removing the embedded dirt that is most harmful to your carpet. Regular deep cleaning with the Big Green keeps your carpets looking newer, longer.
The rotating dirt lifter power brushes provide more cleaning power, penetrating your carpet fibers to remove deep down dirt, as they groom your carpet for professional results. It's easily manoeuvrable, cleaning both forward and backward.
The Bissell exclusive flow indicator monitors water and solution levels, so you know when it's time to check the tanks. Large capacity tanks mean fewer trips to the sink. Plus, both tanks remove for easy filling and emptying. With the convenient long reach hose and six inch tough stain tool, you can easily remove tough spots and stains in corners and hard to reach places. Plus, the handle folds for easy storing.
Better, cleaner, faster, easier. The Big Green deep cleaning machine from Bissel, the number one selling brand in deep cleaning.
BISSELL® Big Green Deep Cleaning Machine Professional Grade Carpet Cleaner
187
190
bissell big green cleaning machine
Well to say the best thing about it awesome machine replaces my Bissell pet pro machine which had bit the dust this machine combind with the professional cleaning solution blew my mind on what it pulled out I vacumm just about every day no I"m questioning my vacumm abiltys to pick up dirt .As far as the rental units such as rug doctor be care ful that it was not used to pick up flood water from a flooded basement or you could be putting mold back into your capeting from what was picked up because most places do not disinfect the machines after getting them back from service unless stated by the rental place if they were done so. But Bissell did their homework and the machine gets an A+ from me on performance Iv'ed used many units over a course of years and worked for a rental company so I can tell u horror stories about capet machines but will not state that .So this unit is a worth while investment no problem with this machine just follow instructions...made my carpets look like new
September 17, 2014
Professional performance at a low price
Great water pick up and brush action. Works almost as well as a professional carpet extractor. Biggest difference is that its designed for smaller areas. Only negative (small negative) is it is difficult to clean under the unit where the brush housing and vacuum pick up area is.
September 2, 2014
My feelings are mixed about it. I'll start with what I like: It is well marked and can be used just about intuitively. I like seeing the tank levels and the little gizmo that shows the cleaner is flowing. I also like the clear plastic on the upholstery cleaner nozzle so I can see that it is working but wish the clear plastic would continue further up the handle because at some angles it was hard to see if I needed to continue to suction more liquid out. Here's what I didn't like: It's very heavy. It's not for tight or small areas. The tanks are tall and it won't fit under much when cleaning. The handle has to cope with a lot of stress from the heaviness and maneuvering, so I hope it holds. The on/off button is made of a suction cup like material that doesn't look like it will last. It cleaned well where I could get it to go, but I guess I was hoping for something a little better.
August 19, 2014
Met all my Expectations
Friends and family thought I was crazy as I was so excited to receive my carpet cleaning machine and put it right to work. The following morning after UPS dropped it off I cleaned all my main floor carpets and was thrilled with the results. The machine is basically ready to use right out of the box - just discard the packing material. Instructions were simple and easy to follow, the carpets look great and cleanup was quick and efficient. I was very glad I researched and purchased this machine. Tomorrow my machine and myself are travelling to clean my parent's carpet.
August 11, 2014
Bissell Big Green
This is the best machine ever. I have tried many different machines I have purchased. and would buy this over and over. Well done. This machine took out stains that were old. My carpets look back to the day I had them installed. Please keep up the good work. The price was fantastic also. Beverly L. Marysville WA
August 8, 2014
Great Product
I love this. It is really professional grade cleaner. I am very happy with this product!
August 1, 2014
Best one yet.
I have owned the majority of all the major named carpet cleaner brands including the rentals that you can purchase. Of all the ones I owned and tried this one cleans the best. It cleans a shade or two cleaner than the rug doctor and doesn't leave the carpet nearly as wet, although the rug doctor does a fair job. Alot of people complain about debris or clumps of stuff left behind and from what I was able to see it is stuff that is left behind from vacuums. I vacuum over and over again before I use this cleaner and this still pulls out animal hair and some carpet fiber but this just tells me it gets down in there better than the other cleaners and for me this is no major flaw. My only real complaint with this cleaner it doesn't have the clean water rinse that the cheaper cleaners have so if you like to have clean water rinse like I do, you have to redo the carpets a second time with just plain hot water to rinse out any left over detergent. 5 out of 5
May 6, 2014
Works great. Powerful motor.
Besides the carpet cleaning, I used the machine on my car mats with the upholstery attachment. The dirt pulled out by Big Green was pure black. It did great job. Only drawback is it drops a small amount of the dirty water when idle.
March 12, 2014
Related Searches:
Similar Products: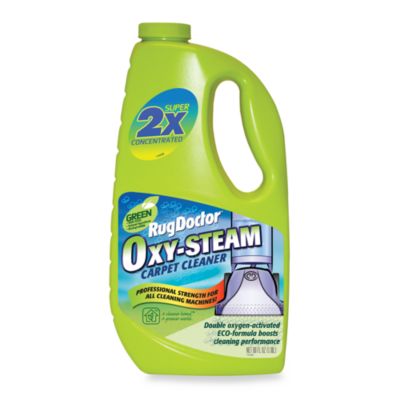 Rug Doctor® Green Formula Oxy Steam Carpet Cleaner
Price:
$14.99
Brand:
Rug Doctor
Categories:
Storage & Cleaning > Vacuums & Floor Care > Vacuum Accessories
The Rug Doctor® Oxy-Steam Carpet Cleaner offers professional strength for all carpet cleaning machines. Its concentrated, double oxygen-boosted green formula is free of toxic ingredients and contains no dyes, phosphates or pesticides.
Also check out:
$19.99

Free Standard Shipping

(34 Reviews)

$5.99

Free Standard Shipping

(11 Reviews)

$29.99

$14.99

Free Standard Shipping

Clearance!

(1 Review)
$32.99

Free Standard Shipping

$19.99

Free Standard Shipping

(1 Review)

$18.99

Free Standard Shipping

$14.99

Free Standard Shipping

(1 Review)

$3.99

Exclusively Ours

(2 Reviews)
$99.99 - $199.99
(33 Reviews)

$15.99 - $24.99
(9 Reviews)