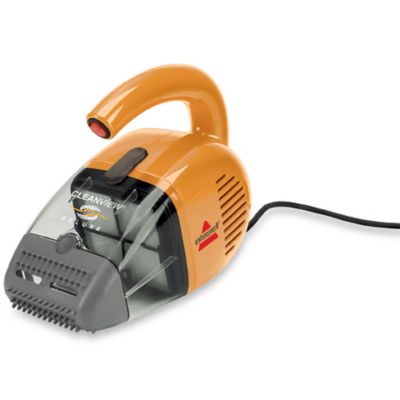 BISSELL® Cleanview® Deluxe Hand Vac
Measures 8" H x 10" W x 13" L.
Model #47R51.
SKU # 16607045
BISSELL® Cleanview® Deluxe Hand Vac
43
44
Great quick picker-upper
I have birds and house bunnies and this little vac is great to pick up those everyday little messes that you don't want to take out the "big machine" for! I have used a few of the different attachments and they all work great...it is easy to empty and keep clean for the next use...it is saving my aching back!
August 11, 2014
Doesn't do as advertised
Not a great product. Not east to empty & clean & doesn't have the suction to pick up cat litter from carpet without running over & over same spot. Wanted something to clean the stairs, this isn't it.
July 31, 2014
A Great Little Vac
I purchased this as a gift for my mother who loves it. The quality is exceptional, yet light weight for carrying around. It has powerful suction. The attachments are very useful and are easily snapped on. Another plus is the long cord which allows you to move around while cleaning. The next one I buy will be for me!
May 20, 2014
SImply the best!
I ordered this hand vacuum cleaner for my daughter to take to the college and decided to try it first. Now I need to order another one, since this little guy is staying with me! I have very good full-size vacuum but my stairs stayed dirty most of the time - it's so cumbersome to clean them with the big, bulky, heavy Kirby. I am too lazy to unhook the parts and attach the hose to go small places. So now the stairs and all the nooks and crannies are going to be as clean as the rest of the house, because it is a pure pleasure now - just pick the little hand vac, plug it in and you are ready to go! The suction is good, the attachments are super-easy to change, cleaning is a breeze and the velcro strip on the cable keeping it compact for the storage. Love it! Let's see how long it will last.
March 17, 2014
The Best Hand Vac Ever!
This is my second purchase of this product because I love it so much! Originally purchased as a vacuum for my car and liked it so much I bought another for inside to do my carpeted stairs. What a handy and convenient tool! It comes with attachments and the suction is unbelieveable ... so much better than any car vacuum you could possibly find. It's size is perfect for holding with one hand while vacuuming with the other. The on and off button is very handy - located right on the handle. I can't praise this product enough - I highly recommend it!
March 10, 2014
Powerful new best friend!
I needed this hand held to keep cat hair off my furniture. (this cat just will not stay off the furniture). Well, it exceeded my expectations, and I now use it everywhere. I don't have carpet, except for a large throw rug. Instead of lugging the huge vacuum from the basement, I just pull this out. So powerful, and effective. The attachments are great, and this hand held was worth every penny. So happy with mu purchase.
January 27, 2014
Holy cow!!
This little guy REALLY works!! OK, I will admit to giving it the toughest task on earth its very first time out of the box -- Christmas tree needles combined with cat hair and even a bit of Scotch tape scattered around on both carpet and limestone flooring. But it performed like a champion! Several years ago, I bought a Eureka on Amazon, and it not only didn't pick up dirt, but it actually blew out the back so that the dirt was scattered around more! Needless to say, I was disappointed with my purchase. Not this one! I would venture to say that this one of the best purchases I've ever made!
January 9, 2014
Unbelievable Power Hand Vacuum!
Love, love, love this little hand held vacuum! I have hardwood floors with two small sets of carpeted stairs and this little machine gets the job done without pulling out the regular vacuum. I also use it to clean my upholstered furniture and am seriously considering purchasing another just for the car. The 18-ft cord makes life even easier! I was going to purchase the Shark, but after reading the reviews changed my mind. I am touting the pros of this little tool to everyone I know! Bissell is definitely the way to go.
December 4, 2013
Related Searches:
Similar Products: