Thermos THERMOcafe™ Foam Insulated 24-Ounce Travel Mug
Fits most car cup holders.
Dishwasher safe.
Five-year warranty.
SKU # 18770865
Thermos THERMOcafe™ Foam Insulated 24-Ounce Travel Mug
5
5
Looks nice
I ordered this mug for cold drinks. I tried it and my drink was warm after 2 hours.
July 15, 2014
Is it really dishwasher safe?
The description here on the BBB website says this mug is dishwasher safe, which is EXACTLY why I ordered it. It is rare you find a nice travel mug that doesn't say "hand wash only." Upon arrival at my home, I see that the tags on these (because I ordered two) says "hand wash recommended." I am still going to use these and put them in the dishwasher, but I am a bit weary about it now! Just FYI if you were shopping for these for the same reason I was. Other than that, these mugs look great and are a great size.
April 30, 2014
This 24 oz. mug is awesome!
I have been looking all over creation for a replacement for my old, battered, and heavily used ThermoCafe 24 oz. mug. It was time to replace very old, very trusty mug. I had found tons of 16 ouncers but no one had the 24 ouncer - - until now! And the new version has an even nicer inner liner which resists milky rings. Love it! Thanks BB&B for carrying this online!
March 31, 2014
Great mug
Bought this mug to travel on a cruise with and it has proven to be greater than expected. We drink a lot of coffee so the added volume is great, it fits in the car perfectly, and it keeps the coffee hotter than any travel mug I have ever bought. We plan on buying additional mugs so that we have a set at home and a set for camping.
November 12, 2013
disappointed
Although I had high hopes for this mug, I was quickly disappointed. It does hold a lot of coffee, which is a plus, but it didn't keep it hot for longer than the coffee shop cup (styrofoam or paper) I was hoping to replace.
December 13, 2012
Related Searches:
Similar Products: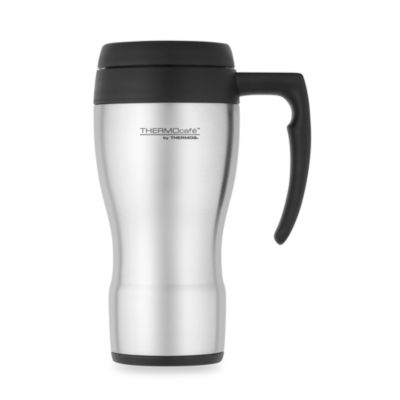 Thermos THERMOcafe™ Foam Insulated 16-Ounce Travel Mug
Price:
$9.99
Brand:
thermos
Categories:
Kitchen > Small Appliances > Coffee, Tea & Espresso
THERMOcafe™ travel mug features double wall foam insulation. With a stainless steel exterior, travel mug features a scratch-resistant base and slide lock lid.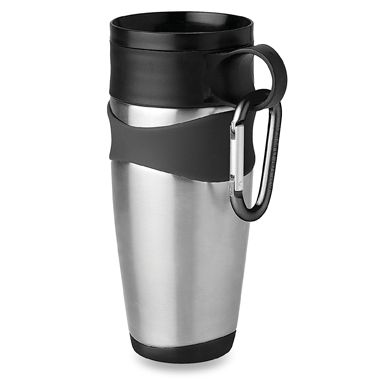 Copco Xtreme 16-Ounce Travel Mug
Price:
$14.99
Brand:
Copco
Categories:
Kitchen > Small Appliances > Coffee, Tea & Espresso
This versatile travel mug is for the extreme user, offering superior performance and excellent durability. It is made from double wall stainless steel for hot or cold beverages, and is foam insulated for superior heat retention.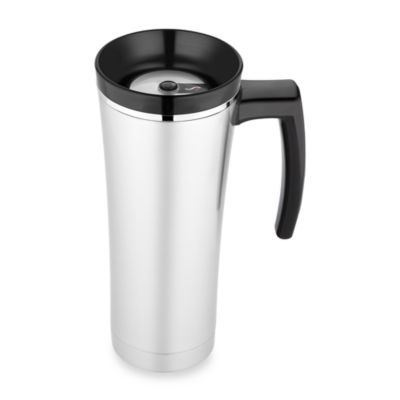 Thermos® Sipp™ Vacuum Insulated Travel Mug - White
Price:
$29.99
Brand:
thermos
Colors:
black/silver
Categories:
Home > Kitchen > Small Appliances > Coffee, Tea & Espresso
This handy travel mug from Thermos® features TherMax® double wall vacuum insulation for maximum temperature retention. It is able to keep hot beverages hot for up to 5 hours and cold beverages cold for up to 9 hours. It's also BPA-free and since it's constructed of stainless steel inside and out, it's unbreakable. It boasts a leak-proof lid with a convenient one hand push button operation, plus the lid has a built-in tea hook that holds most tea bags or loose leaf infusers so you can brew a perfect cup of tea in transit. Measures 3 1/2" D x 5" W x 8" H. Dishwasher safe. 16-ounce capacity.