Real Simple Pop-up Gift Wrap & Ribbon Organizer
Easily store gift wrap, ribbons or even a holiday wreath away in any room of the house for any of your storage needs
Made using 100% polyester
Body is green with red trim
Lid is a transparent zippered top with white dots to finish the holiday colored motif
Features toggle closures to keep the unit retracted when not in use and allow easy pop up when needed
Gift wrap holder measures 13 1/2" in diameter and 40" high
Ribbon holder measures 13 1/2" in diameter and 9 1/2" high
SKU # 17713850
Real Simple Pop-up Gift Wrap & Ribbon Organizer
6
6
Loved it
It holds a lot of wrapping paper. Great product for the price.
July 28, 2014
Helpful and Good Value
My older, similar item had finally bitten the dust and I was very happy to find this online. This is actually sturdier than the first one I'd had, so that was very welcome. I will probably get more as I need them.
May 18, 2014
Christmas Wrap
My husband always says we have too much wrap & ribbon but now, they are put away with room for more!! Love this organizer & am so glad I found it online =)
February 17, 2014
Holds a lot of the 40" big rolls
This is great, I love it. I couldn't find anything that would hold as many of the 40" rolls of wrapping paper that I had and found this. It's really big and holds more than my 12 rolls of paper. I still have enough room to hold several more rolls!
February 10, 2014
Handy
I was looking for something to store several Christmas light reels, and this is perfect. I have 6 - 10.5" reels and one that is quite large, about 12" but they fit fine and there is plenty of room for more. I'll use the bow bag to store extra light strings. Better than the big box I was storing them in! The fact that this bag stands vertically helps with space as well. It seems sturdy enough and it's nice that it collapses to put out of the way during the holidays.
December 31, 2013
Taller than most...
I was really wanting one of the tall plastic totes that sits upright to store my paper and keep it crisp til next year. However all my wrapping paper was taller than any of that type I could find. Most only go up to 30" and this says 40". My rolls are actually about an inch taller even than this container, but with just a few they can lay diagonal in there and still be able to zip the top closed. I would say these containers would be best for storing in a clean dry place. They probably won't keep everything from getting crunched if you jamb it in a stuffed storage space. But this seems to be the only option on the market for longer rolls...
December 30, 2011
Related Searches:
Similar Products: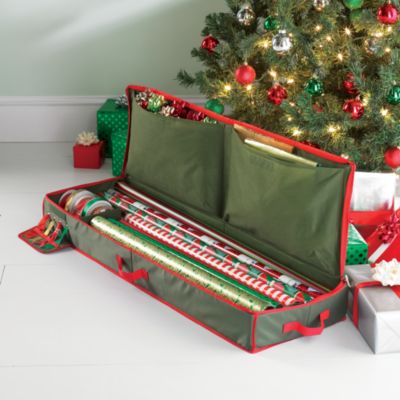 Real Simple Holiday Gift Wrap Under Bed Storage Station
Price:
$19.99
Brand:
Real Simple
Categories:
Holiday & Gifts > Christmas > Christmas Storage
Gift wrapping is now much easier and more organized with the spacious Real Simple Storage Station. Features zip security that keeps out dust and insects, a handy ribbon dispenser that holds up to 4 spools of ribbon and keeps them tangle-free.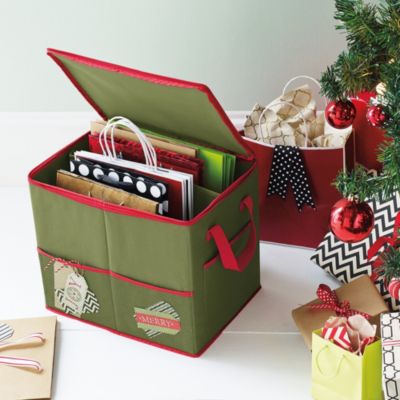 Real Simple® Gift Bag Organizer
Price:
$14.99
Brand:
Real Simple
Categories:
Holiday & Gifts > Christmas > Christmas Storage
This handy organizer holds gift bags, tissue paper, and other small wrapping accessories. Keeps everything nice and neat. Perfect for all year storage.
Also check out:
$14.99 - $19.99
(12 Reviews)

$29.99 Each

Beyond Value

Exclusively Ours

(23 Reviews)

$5.99

$5.59

Clearance!

(8 Reviews)

$9.99

Exclusively Ours

(67 Reviews)

$9.99 Each

Beyond Value

Exclusively Ours

(30 Reviews)

$5.99

Exclusively Ours

(9 Reviews)