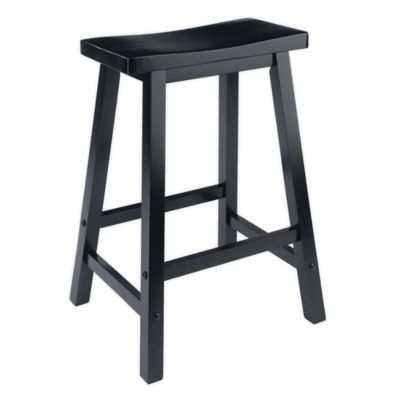 24-Inch Saddle Stool in Black
200 lb. weight capacity
Easy assembly
Solid wood construction
SKU # 15848855
Saddle Stool in Black
9
9
Too hard to assemble!
The little hardware that came with it was useless! The pre-made holes to fit the screws were too small! Using the Allen wrench that came with it didn't work. I finally had to take it back to the store and have someone there assemble it for me, they even said that one needed better tools to put it together! I would not buy this product again.
September 12, 2014
NOT Easy Assembly!!
These stools are cute if you have the elbow grease to put them together, but I personally did not. I had to call in help and it was agreed that the screws and hardware provided were inadequate! Warning to women-do not buy unless you have either a. quite a bit of muscle or b.someone who can help you put them together.
August 20, 2014
Black saddle stools
Perfect addition to our newly remodeled kitchen. Perfect height!
July 30, 2014
Black Stool
The quality was great. I highly recommend this product. I was exactly what we were looking for. The service at the store was wonderful.
December 18, 2013
Good Stool
This counter height stool is sleek and sturdy. Exactly what I was looking for.
June 6, 2013
Badly retouched
The stools are sturdy as advertised and easy to put together. They are also priced to move. My problem all three of the stools I bought had obvious blemishes which had been retouched with black paint. Two of the stools have large (half inch) blemishes on the seat and they are the first thing I see when I look at the stool. In my opinion, these are clearly seconds from somewhere else. I would gladly have paid more for 'new' product as these are prominent at my kitchen island. The retouching compares to something I would expect find at a garage sale.
April 24, 2013
good purchase
I purchased 2 of the black 24 inch saddle stools and they are the perfect height for my counter. Didn't take long to put together and they look just like the picture shown on website. I love'em!
September 14, 2012
Just what I was looking for
They are just what I wanted to save space at my kitchen bar and also compliment it. I really wanted the stools to be Mahogony, but they look great in black and am glad that they were on Bed Bath and Beyond e-mail.
February 2, 2012
Related Searches:
Similar Products: