Omega Paw Roll' N Clean™ Litter Box
Simple to use: just roll the litter box onto its top, roll back to the upright position, remove the tray and dispose of waste.
Available in large (20" L x 22" W x 19" H with a 9" diameter opening) and medium (19" L x 16" W x 16 1/2" H with a 9" diameter opening) sizes.
Imported.
One-year manufacturer's warranty.
Omega Paw Roll' N Clean™ Litter Box
12
12
best litter box
No need to scoop just roll box slow and it's clean.
September 15, 2014
Great idea but not practical
If the litter is high enough that urine doesn't cause it to stick to the bottom of the box our cat doesn't have room to sit up, nor does the stuck litter roll toward the interior grill. The box isn't sturdy enough to handle a lot of litter even if you have a smaller cat. Now I have to spend another $50 for a motion sensor deterrent to keep him from going in the house plant where he preferred before we figured out what was happening. One nice thing about it was my cat loved to curl up in as soon as I put it together. Without litter of course!
September 12, 2014
Don't waste your money
This is a cheap product made with cheap materials. The first time I rolled it over, the "side" edge was not tight, and I ended up with dirty cat latter all over the floor... But.. it is made so poorly, that you can't get it to "snap together" the way it should Also, I only have one cat, so I ordered the smaller/medium size. When you look at it, the "floor" where the kitty can "use" is only 1/2-2/3 the size as the bottom width you see in the picture. My cat didn't like it al all and quite literally meowed at the top of his little lungs until I brought back his other bigger box. And he's not that big of a cat.. These things are just small = period. From about 2 inches left of where the scoop is, is where the bottom ends. There is a plastic screen in there that keeps the litter supposedly to the left of itself. I'm cleaning it up and shipping it back.... Don't waste your time or money on this !!
September 1, 2014
Cleaning is easier
Great box. I wished I would have gotten the smaller one though. The large one is cumbersome.
July 30, 2014
Great Litter Box
This litter box is the easiest box to clean that we've ever had. We have 3 cats and they all love it. We're going to buy a couple of more and get rid of the old conventional ones. Goodbye scraping litter to keep it clean.
July 21, 2014
Really Works! Stop Scooping!
I have 3 cats and am always looking for a way to make the litter box more manageable. I have finally found it!! This works exactly as described. Just roll to the side, tap the bottom, and roll back. I keep the Litter Genie right next to the litter box, and the drawer for the Omega Paw easily empties into the Litter Genie. I never touch the litter, no more bending over to scoop out the box into grocery bags. One of my cats is Maine Coon and rather large--he has no problem using the Large box. I use Tidy Cat clumping litter and it works great. I would recommend getting the larger size unless you have only one cat. (A third of the size of the box is taken up with the sifting mechanism). Also, do not fill this too full with litter, or when you roll you will end up wasting a little litter into the drawer. The only negatives I can give are that the plastic is a little thin, and it's not made in USA (the Litter Genie is). But otherwise this product is fantastic. Bed, Bath and Beyond has the best price on these, especially if you are ordering enough to get free shipping.
May 24, 2014
AMAZING! I threw out the kitty box scooper :)
I have one cat and got the medium. I definitely recommend getting the large if you have more than one cat. This kitty box is amazing and has completely changed the original method of collecting my cat's excrements! It is built with quality and will last a long time. I can't believe I didn't get this sooner!! :)
March 24, 2014
Works as described with right litter
Cleaning is as easy as described, if you use the right litter. Some litters stick to the bottom and need to be cleaned off with the scoop. Corn based litter (such as "Worlds Best") don't stick and make cleaning really fast. The corn also fights the ammonia smell better than the wheat we tried. The lid latches need to be pushed all the way to the unlock position before locking or they might not engage. Litter lasts much longer since, the bad stuff is removed easily, maybe 3 times as long, making the expensive per pound corn a good value. Both cats prefer this over the pine filled standard box, our previous favorite. Large is big enough for our huge 24 pound cat. We will replace the other box with a Roll and Clean when the pine is used up. Might just have to give it away, since the cats really like the corn much better. Great simple design, highly recommend it!
November 2, 2013
Related Searches:
Similar Products: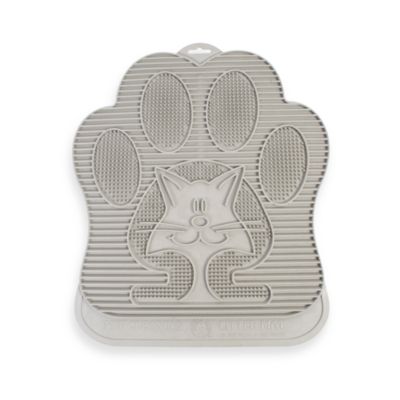 Omega Paw Paw-Cleaning Litter Mat
Price:
$6.99
Brand:
Omega Paw
Categories:
Cat owners appreciate the benefits of having the Paw Cleaning Litter Mat. The litter mat is designed to remove litter that becomes lodged in cat's paws.
Also check out:
$7.99 - $14.99
(13 Reviews)
$34.99 - $59.99
(7 Reviews)

$4.99 - $7.99

Exclusively Ours

(3 Reviews)

$9.99

Beyond Value

(12 Reviews)

$7.99

Exclusively Ours

(27 Reviews)