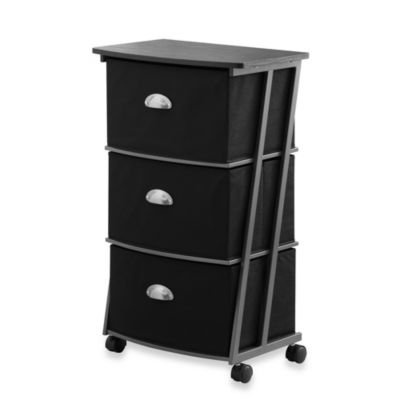 Studio 3B™ 3 Drawer Storage Cart in Black
Cart is on wheels for transporting and two wheels are lockable to keep the cart stationary.
3-drawer cart measures 29 3/4" H x 17.9" W x 12" D overall.
Drawers measure 15" W x 11" D x 8.375" H.
SKU # 17151533
Studio 3B™ 3 Drawer Storage Cart in Black
4
5
One Of The Best Purchases I Ever Made!
I'm confused by the two bad reviews I read of this product. I am so happy with this purchase. I'm, actually, buying another one. It's definitely sturdy and looks nice. I found it to be worth the money. I highly recommend it.
June 12, 2013
I love it
i really love tis item its just what i needed for my closet. But i do agree its a little expensive. Hope this helps :)
October 7, 2012
worst product ever
I purchased a 3 and a 4 tier drawer. I even enlisted a friend to try to assemble. But it was machined to make that impossible. First, the 3 tier came with the wrong wheels so I opened the other pkg and those wheels would not insert into the bottom. When I opened the 4 drawer I saw why as they were different and did work with both sets of drawers. BUT only 3 wheels could be attached to the 3 tier assembly because one of the receptive holes was not machined properly. I tried other wheels that worked in other holes, the wheels weren't the problem, it was the hole into which it was to go. then I tried to assemble the 4 drawer set and ran into a similar problem in that of the 8 screws for assembling the drawer casing to the support frame, two could not be screwed in. Again I tried screws that worked in other holes to be sure whether it was a screw or the hole. Nope, to holes were not wide enough for the screws to be fully screwed in. I wasn't sure if the unit would be stable and roll easily when filled, but I never got the chance to find out as once I have to go back to the store I'll just return it and rue the fact that I wasted 3 hours attempting to assemble them and that even with the two sets I couldn't get one to work! I'm sure there are some that are manufactured correctly, but come on, what does it say when two of two are defective!
August 7, 2012
Not Worth It...
I just purchased this item and it definitely isn't worth the $40. When assembled, the cart is nowhere near stable and feels cheap. Don't waste your money!
July 26, 2011
Related Searches:
Similar Products:
Also check out:
Twin $19.99 - Cal King $34.99
(51 Reviews)

$14.99

Beyond Value

(40 Reviews)

Twin $39.99 - Cal King $79.99
(17 Reviews)

$9.99

Beyond Value

(4 Reviews)

$14.99 Each

Beyond Value

(16 Reviews)

Twin $99.99 - Cal King $199.99




Twin $69.99 - Cal King $139.99

Clearance!

Exclusively Ours

(67 Reviews)

$3.99 Each

Beyond Value

(8 Reviews)

$29.99 Each
Oversized
(27 Reviews)

$9.99 Each

Beyond Value

Exclusively Ours

(32 Reviews)