Dr. Brown's® Double Electric Breast Pump
The Super-Soft BabyFace Flexible Breastcups puff in and out gently to conform and move with mom's breast while expressing.
Includes a discreet purse-like tote bag, pump motor, air tubing, (2) collection units, (2) extra collection bottles with storage caps, insulated cooler bag with two ice gel packs (store milk up to 12 hours) and a wet storage bag.
Milk collection parts are dishwasher safe.
Imported.
SKU # 18797674
Dr. Brown's® Double Electric Breast Pump
7
8
Love this pump - better than Medela
Being a first time Mom, I wasn't sure what to expect with the whole breastfeeding thing - let alone pumping! I received the Dr. Brown pump as a gift for my baby shower and I went ahead and ordered the Medela "Pump In Style" because my insurance company covered it. 3 months pp, I had been very successful with breastfeeding, but had not yet pumped at all. It was getting close to the timing when I would be returning to work, but since I had had a very good experience breastfeeding I was quite nervous to add in pumping out of fear that it would somehow effect my overall experience with the baby's feedings (sore nipples, etc.) When I did work up the courage, I was very glad to have the Dr. Brown's pump. The quality of the equipment and cups were SIGNIFICANTLY better than the Medela pump. From three months on (I am now at almost 7 months of breastfeeding and pumping) the Dr. Brown's pump has been wonderful and, I think, as close to feeling natural to breastfeeding as you can get! The parts are extremely well made and easy to clean. Last month, I was having a problem where the pump was very slow in getting my milk into the bottle. My first thought was that it was me, but I wasn't sure so I decided to try my Medela pump as a back up solution. OUCH! The cups were hard cones and the tubing pieces appeared to be so much lesser quality, plus there was less control over letdown and pumping suction and speeds. The Medela pump was kind of all the things I feared about pumping in the first place. I decided to give the Dr. Brown's customer service a call and they diagnosed my problem immediately and overnighted me the replacement piece I needed for the very next day free of charge. I would never hesitate to contact them again and I was very glad to put the Medela pump away and never use it again. I guess having that comparison made me appreciate my Dr. Brown's pump even more and inspired me to write this review. I should also mention that I love the discreet bag and it's compartments as well as all the accessories it included (cooler, ice packs for transporting milk, bottles, etc.). I also love using the Dr. Brown's bottles. Although pumping is never as natural as breastfeeding itself, the Dr. Brown's pump is as close as you can get!
April 9, 2014
You Don't Get Something for Nothing
This pump totally delivers on its gentle suction promise. Unfortunately, prepare to sacrifice milk volume. I've had this pump for 5 months, and am continually finding that several days of decent functionality will be followed by a day (or several) of nothing. I will literally be leaking through my shirt, and yet this pump can't squeeze a drop out of me, resulting in the need to hand express at work. Needless to say, the stress of trying to get enough milk with this pump has greatly outweighed any comfort from the gentle suction. I've spoken to customer service, and yes, they are very nice. But I'd rather have a pump that works instead of needing to get updated parts. Ultimately, I have no doubt that there is some user error to be factored in here. However, if I can put the pump together the same way and yet continually get varying results, all I'm left with is ongoing frustration. I love the Dr. Brown's bottles, but after using Medela, EvenFlo, and Dr. Brown pumps, I would recommend the Medela.
December 29, 2013
The pump is awesome!
I purchased this pump based on reviews, but didn't actually know anyone that had used it. I am so happy with this pump! The cups are extremely gentle, and everything is very easy to use, put together and clean. In addition, the company's customer service is outstanding, working quickly to help with any concerns. I strongly recommend this pump!
September 2, 2013
No pulling or tugging!
I am a second time nursing mom. I received the Simplisse pump as a gift and I'm so glad I did! With my first daughter I pumped and nursed her until she was 11 months old. My old pump (a pump considered "top of the line") hurt, gave me clogged milk ducts and made pumping a chore. So much so that I considered quitting pumping/nursing early on with my second daughter. The Simplisse pump changed my mind – it is so comfortable you hardly realize you are pumping. The only thing that keeps me from giving the pump 5 stars is that it is loud (but you get used to if over time) and there are a lot of parts you need to put the pump together (although assembly is fairly quick and the comfort is definitely worth it!)
July 24, 2012
The best thing to get!
This pump is amazing! I have been using it for 7 months now. I went back to work at 3 months and it is great! Besides being a great product and really easy to use the customer service is beyond amazing! I wanted an extra part and the store I got it from wasn't selling to product anymore so I called and the woman that i spoke with was so sweet and overnighted me the products on top of sending me addtional parts! Just for the customer service I would recommend it! I personally never used any other brands of pumps but my friend used the Madela and she described it as a painful process. My pumping has never been painful and most of the time, the container is full before I think it is! amazing!!!
February 22, 2012
Great for busy moms!!
I purchased this for my second baby and it's been so great! Super soft and gentle, which is so important to me. No yanking or hard plastic and after it starts pumping, it flows very smooth and not in bursts. You hardly feel the pumping/suction action at all. Love the bag and construction of the pump - once you clean/put together once, it's super easy. My fav part is the bottle holders - no more spilling milk!!! And no dripping milk due to the soft, curved cups. Dream machine :)
February 8, 2012
Relief for Mom
My wife and I have one of these, and it has been the most welcome part of our experience with our first son. He had some challenges with latching on, which eventually led to soreness in my wife. Nursing became a painful experience, but as soon as she could begin using this pump, everything changed. She appreciates knowing that the latch will always be correct, and that the action of the collection devices will always ensure good flow and volume. I appreciate that I can occasionally give our son a bottle, and I also appreciate how easily the system goes together and apart for cleaning. So far, the unit has been reliable, and I can't stress enough how impressed I am with how the collection units replicate the shape and movement of what the baby is supposed to be doing. I don't understand why anyone would still be using those rigid plastic ones that look like the end of a toy trumpet. There is no comparison to the way these work.
January 23, 2012
Related Searches:
Similar Products: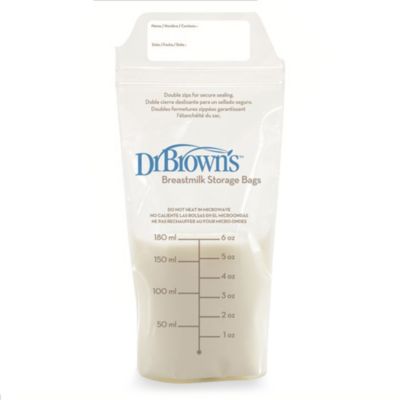 Dr. Brown's® 25-Count Breastmilk Storage Bags
Price:
$7.99
Brand:
Dr Browns
Categories:
Baby & Kids > Nursing & Feeding > Nursing
Built for durability, Dr. Brown's Breastmilk Storage Bags are self-standing and leak-proof. They have a double zipper seal, marks for accurate measuring and a labeling area for indexing and organizing.
Also check out:
$399.99

$50 Bonus Gift card with purchase

Baby Registry Favorite

(19 Reviews)

$15.99

$5 Bonus Gift Card with Purchase of $25 or more

(1 Review)

$5.99 - $9.99
(10 Reviews)
$299.99

$25 Bonus Gift card with purchase

Baby Registry Favorite

(8 Reviews)

$299.99

$25 Bonus Gift card with purchase

Baby Registry Favorite

(12 Reviews)

Carrier $79.99
(1 Review)

$349.99

$25 Bonus Gift card with purchase

(6 Reviews)