Quinny® mood™ Stroller in Green Courage
Includes sun canopy, shopping basket and adapters for the Quinny® dreami™ Bassinet (sold separately), Maxi Cosi Prezi™ Infant Car Seat (sold separately) and the Maxi-Cosi® Mico Infant car seat (sold separately).
Allows forward or rear facing applications and one-handed recline in either position.
Hand washable fabric.
Lockable swivel wheels with rear wheel brakes.
For children who can sit up unassisted, up to 50 lbs. or from birth with use of Maxi-Cosi® Mico Infant Car Seat (sold separately), Maxi Cosi Prezi™ Infant car seat (sold separately) or Quinny® Dreami bassinet (sold separately).
Stroller weighs 30 lbs.
Two-year warranty.
Imported.

SKU # 40053868
Quinny® moodd™ Stroller in Green Courage
6
6
LOVE THIS STROLLER
This was a baby shower gift for me n it's was EYE CANDY every where I went with my baby girl it's cute it gilded on the ground smooth. I would buy any product from quinny
October 29, 2014
Stinks
I got the Moodd as a gift last year. We are stationed in Naples Italy. We thought it would be great for the cobblestone and unpaved roads. We were wrong. CONS: 1. It's heavy. I can barely lift it up and put it in the back of our full size VW. The wheels are a battle to get into the trunk 2. When I fold it down, it pops back up. I have to try two to three times just to get it to stay, and when I do life it...it pops back up....I hate it. 3. It's big. The seat it small, the sun canopy is even smaller. 4. It rattles and creaks. 5. This stupid cup holder never stays on. 6. NOTHING fits in the shopping basket. 7. The breaks stink. They don't lock and when they do I have to fight to unlock them. PRO: It looks good. Someone asked if it was a UFO. People stop and ask me what kind of stroller it is. I say an overpriced one and you're better off buying another brand. This is our secondary stroller....and I avoid used it as a secondary stroller a lot.
October 14, 2014
The Mother of all Strollers!
I always wanted to own this stroller and when I finally got my hands on it, I was in love! Though it's a bit heavy, it's really classy, a head-turner, and has so many alternative ways to use it! Very smooth and can be push with one hand very easily! I just really wish it had cup holder like all regular inexpensive strollers and a peekaboo window on the top :) Overall great product!
June 11, 2014
Looks great and works even better!
I bought this stroller for my daughter and I absolutely LOVE it! I get stopped everywhere I go because its so original, but what I love the most is the mobility of it! Because of its full wheel mobility, while other parents struggle to get in a tight place like an elevator, the Quinny Moodd easily glides without struggle. I would recommend this stroller to any mommy!
December 27, 2013
Great Stroller - Highly Recommend
Our son is almost 10 months and we ❤️ the stroller.  He is very comfortable in it and it's quite sturdy/durable.  It is the SUV of strollers.  Easy to pack and move ... However it does take quite a bit of space and is heavier than other strollers.  Highly recommend!
December 12, 2013
Love this stroller!
I bought this stroller a month ago and I love it! the fold is so quick and easy and it folds with the seat on. The look is so stylish - I get compliments everywhere I go!
September 24, 2013
Related Searches:
Similar Products: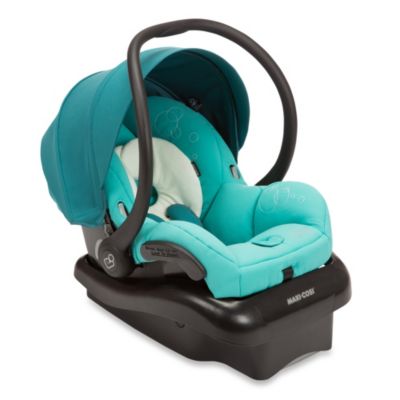 Maxi-Cosi® Mico® Air Protect® Infant Car Seat in Treasured Green
Price:
$159.99
Brand:
Maxi-Cosi
Categories:
Baby & Kids > Car Seats > Infant Car Seats
The Mico Air Protect Infant Car Seat has a lightweight design that makes transferring from your car to either a Quinny® or Maxi-Cosi stroller a breeze. The original Mico just got better with the Mico AP!