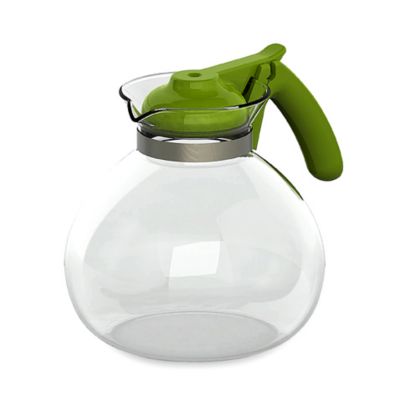 Primula® 2-Quart Glass Stovetop Whistling Kettle
Classic whistle sounds when the water is boiling
Pouring is easy with its lever-action flip lid
A silicone insert in the stay-cool handle provides a secure and safe grip
Capacity: 2 qt.
Completely removable lid provides for easy filling and cleaning, whether by hand or in the dishwasher
SKU # 18766060
Primula® 2-Quart Glass Stovetop Whistling Kettle
5
5
Feel better about brewing my tea
I have always liked stove top whislting kettles and decided it was time to change to glass from metals. I drink a lot of tea and I wasn't sure what chemicals I was drinking along with my tea. This little tea pot has been great so far. It gets hot quick and even has a little whistle to let me know when it's bubbling. I would definitely recommend it.
March 10, 2014
Perhaps this should be called a thermos!
Nice looking, but this type of glass product is extremely non heat conducting. Takes 30-40 minutes to warm water on medium low setting. which is what is needed since the base of kettle has a small footprint and you are instructed not to have flames touch sides of pots. Useless as a tea kettle, perhaps better used to keep hot water hot?
February 25, 2014
This whistling kettle is just the right size, whistles loudly, and is sturdy. An excellent product for the price and I was very happy to be able to get a whistling kettle that is glass, not metal. I would have preferred a more subtle color than the green, however, this doesn't detract from its use.
January 20, 2014
My new Ice tea maker
Pros: The Primula 2Qt Glass kettle has a nice avocado/pea soup colored handle that stays cool when boiling water. The whistle is loud enough that I can hear it from another room. It works well on my flat top electric stove. The lid can be removed for cleaning. I love to drink ice tea through the day and with this kettle I can boil the water, steep the tea, cool it and serve all in on device (just remember to let the tea cool down to room temperature before transferring to the refrigerator). Cons: The lid was very hard to open at first but it is getting better. I actually remove the lid completely and place it backwards to boil water (makes it easier to add the tea bags to the kettle). As with any round pot, be careful when pouring boiling water from it, the steam will raise in the handle direction and may burn your hand.
September 4, 2012
FANTASTIC ITEM
Love this 2-qt glass stovetop whistling kettle which i use on my ceramic top stove. Bought this to replace my Bodum glass tea kettle which cracked. Checked out a few other glass kettles but this one did not need a wire underneath it. and it has a bigger capacity. Excellent price too!
April 18, 2012
Ask your questions. Get answers from the community.
Ask your questions. Share your answers.
Posted by
Leedr
Eastport new york
1 month, 2 weeks ago
0
out of
0
found this question helpful.
Was this answer helpful?
helpful
0
unhelpful
0
http://answers.bedbathandbeyond.com/answers/2009/product/1018766060/question/1870026/undohelpfulness.djs?format=embeddedhtml&sessionparams=__BVSESSIONPARAMS__&return=__RETURN__&innerreturn=http%3A%2F%2Fanswers.bedbathandbeyond.com%2Fanswers%2F2009%2Fproduct%2F1018766060%2Fquestions.djs%3Fformat%3Dembeddedhtml%26scrolltotop%3Dtrue%26expandquestion%3D1870026&user=__USERID__&authsourcetype=__AUTHTYPE__&submissionparams=__BVSUBMISSIONPARAMETERS__&submissionurl=__BVSUBMISSIONURL__
Answers
Answer: 
No, this is not for use on a stove top.
Posted by
Additional information about CommunityAnswer could not be loaded.
1 month, 2 weeks ago
0
out of
0
found this answer helpful.
Was this answer helpful?
helpful
0
unhelpful
0
http://answers.bedbathandbeyond.com/answers/2009/product/1018766060/answer/1810310/undohelpfulness.djs?format=embeddedhtml&sessionparams=__BVSESSIONPARAMS__&return=__RETURN__&innerreturn=http%3A%2F%2Fanswers.bedbathandbeyond.com%2Fanswers%2F2009%2Fproduct%2F1018766060%2Fquestions.djs%3Fformat%3Dembeddedhtml%26scrolltotop%3Dtrue%26expandquestion%3D1870026%26expandanswer%3D1810310&user=__USERID__&authsourcetype=__AUTHTYPE__&submissionparams=__BVSUBMISSIONPARAMETERS__&submissionurl=__BVSUBMISSIONURL__
Related Searches:
Similar Products:
Also check out:
$549.99

Free Standard Shipping