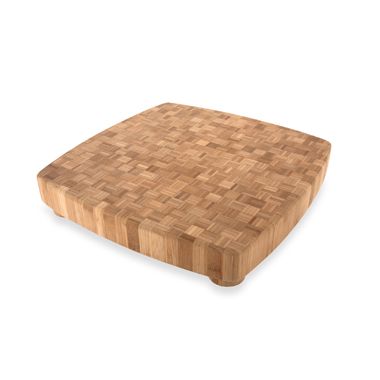 Core Bamboo™ Pro Chef 15-Inch Chop Block
Explore it:
The look and design of each handcrafted board will add beauty and character to your decor.
For the professional and home cook alike this top grade chop block can be found in gourmet kitchens around the world.
Made from the finest bamboo and designed with the professional in mind.
Measures 15" L x 15" W x 2 1/2" H with built-in feet.
Hand wash.
Imported.
SKU # 18841479
Related Searches:
Similar Products:
Also check out:
$99.99 - $129.99




$79.99 - $99.99

Clearance!

(3 Reviews)

4 Piece Set $19.99
(5 Reviews)

$24.99

Special Purchases while supplies last

(3 Reviews)

$29.99

Exclusively Ours

(2 Reviews)
$14.99 - $19.99
(15 Reviews)

$24.99 - $29.99
(36 Reviews)

$59.99

$75 Bonus Gift card with $300 Analon Advanced Purchase

(5 Reviews)