Philips Satin Perfect Epilator
The body contouring head follows every contour of your body, while the two speed settings provide extra gentle epilation.
Epilator is rechargeable and cordless for up to 40 minutes of cord free use.
Textured ceramic discs are hypo-allergenic and washable.
Includes hair lift, massage attachment and pouch.
Two-year warranty.
Model #HP6574/50.
SKU # 40208459
Philips Satin Perfect Epilator
The new Philips SatinPerfect epilator removes hair so fast your legs are ready before you are.
Philips SatinPerfect's extra wide epilation head gives easy, quick results removing more hair in one stroke for long lasting smooth skin.
Philips SatinPerfect's textured, ceramic tweezers grip and remove even finest hairs.
The active hair lifter vibrates, lifts and removes even flat-lying hairs.
Philips Satin Perfect Epilator
19
19
Best one I've found
Yes, it's pretty expensive, but it works so much better than the cheaper ones. Doesn't always pull the hair out with the follicle,but skin stays smooth for a few days.
September 11, 2014
OUCH! but worth it
I would agree with all the reviews that say it hurts - well of course it hurts, you're ripping your hair out by the root. But for me, all that (major) pain was totally worth it because I HATE shaving. In fact, I hate shaving so much, because it's winter and I wear long pants every day, I think the last time I shaved was for Christmas. But I digress. I used the epilator on my legs, calf first. And it hurt. But my little trick, I used it when I was watching tv: any time a commercial break came on, I'd use the epilator, and stop when the show came back on. That system worked rather well. I would agree with other uses that say the epilator misses fine hairs, but for my uses, it was great. I finished my legs, my bikini area (which, by the way, look out for your nether-regions if you aren't trimmed; I passed a little too close on one of my bikini swipes and managed to rip out a fair few number of hairs. Not only did it hurt, I spent the better part of an hour trying to get the hairs out of the epilator head. Think long hair wrapped around a vacuum brush head…) and my armpits. It's a week and a half later, and although I'm not silky smooth any more, I have no visible hair, and that's good enough for me.
February 18, 2014
The head pops off
I used the epilator once. Then after I removed the head to clean the hair out, it never worked the same. The head always pops off when I am trying to use it. Its going in the garbage, waste of $100
February 1, 2014
Pain vs Great Results
My biggest problem with shaving was that even though I was smooth as butter, you could still see the cut hair under my skin! I have thick dark Italian hair and pale, kinda sensitive skin. So, I figured I needed to pull the hair out to achieve the results I was looking for. This epilator does the trick! I tried a metal tweezer type too and I like the ceramic tweezers better, they seem to miss less hair. And I'm not gonna lie- it hurts! If you've ever gotten a tattoo, that's what it feels like. But, just like getting a tattoo, music helps, and once your adrenaline gets going, you get used to the pain. Definitely pay attention to the recommended hair length, the longer the hair the more hurt! But the results are fantastic! I get at least two weeks out of one use, though I would advise touch ups every few days if you want to maintain the smooth!
December 10, 2013
Waste of my hard earned money!!
I was so excited to buy this with all the "good reviews" and bought it today and it sucks royally! It does not your hair out and if it does it is barely any but more like just shaves the top half off. GRRRRRR I could keep going but all I have to say it is not worth it. My leg hairs rule again!
November 29, 2013
Glad I purchased!
It took a while for me to stumble upon the idea of an epilator. I was tired of shaving my legs every other day (and still feeling the stubble after shaving)...tired of shaving my underarms daily (and having red bumps constantly in my underarms)...and tired of maintaining the bikini line. I tried a professional leg and bikini wax once (for my trip to Hawaii) only to find that I still had to shave on the trip since I got stubbly again. What's the point of a $100+ wax session if it won't maintain for a 7 day vacation?!?! Then I tried waxing the bikini line myself. Got a home wax kit with roll-on waxer. The warmer eventually stopped maintaining heat (took well over an hour to heat the wax), plus the roller was a complete pain to clean out after the wax session. So I reverted to tweeting. Took almost an hour to manually tweeze the bikini line. What a time hog. I refuse to shave there since it's always stubbly! At least tweezing meant that it felt relatively smooth there for at least a few weeks. And I've tried depilatory creams, which smell horribly and end up giving me some type of skin reaction like a chemical burn. Hence the tweezing. Grew tired of committing to an hour every three weeks for just the bikini area. Was still having to shave my legs and underarms daily/every other day. So I started looking for a better way to remove unwanted hair that didn't cost a ton of money (like laser hair removal). I spent at least three hours reading reviews for various epilators online. I reluctantly bought the Philips Satin Perfect HP6574 epilator, and braced myself for a painful experience. ALL of the epilators I read about had at least a few people stating the the pain was unbearable. Tried the Satin Perfect today and had really good results, and I honestly don't think it hurts to use it! I started with my legs. I did experience the red bumps on the legs that others wrote about, but no nicks or scratches. The sensation while using the device was kind of like little stings. No big deal at all to me. Well worth it to avoid shaving daily, if I only have to epilate every few weeks. I noticed some missed, really short hairs on my legs, but I think it's because I recently shaved (two days ago, not really having planned to buy the epilator today!). I'll epilate again in a few days to get the stragglers, and hope that I'll be good for a few weeks! Then I did the bikini area. It's been about three weeks since the last "maintenance", so I did get a very thorough, smooth result. Also got red bumps on the area, but I always do when I tweeze there anyhow! I'm sure it will be cleared up by the morning. Last was the underarm area. This part didn't go as well. Possibly because I have some skin tags there that got caught in the epilator. I did have some small dots of blood and almost like a rug burn kind of look and feel to it. It might have also been because the underarm isn't exactly straight like the leg...I tried to get my arm up and behind my head, so that the armpit was as straight as possible (but I obviously didn't have it stretched out enough since I got the little nicks). Will try again once it heals. I'm very happy with the results on my legs and bikini area. And even happier that it didn't hurt much at all! I would have given 5 stars if the underarm area turned out better.
November 17, 2013
Great
The head feels a lot nicer than the ones with the metal teeth. Fantastic little guy. Light is great. Battery, charging time, and cord length are fantastic. I don't really use the lower speed. Use it everywhere. In general, MUCH better than waxing or shaving. Takes some time, but saves SO much time day to day. Saves money too. $100 one time is better than wax appointments and razor heads. However, it can't quite get the tiny hairs (which I don't worry about and I've never tried an epilator that could) and the rounded head can be a pain around a couple of areas.
October 5, 2013
Great work
It really works good. Only that you have to wait for the hair to get a little longer. Other then that it works perfect.
September 17, 2013
Related Searches:
Similar Products: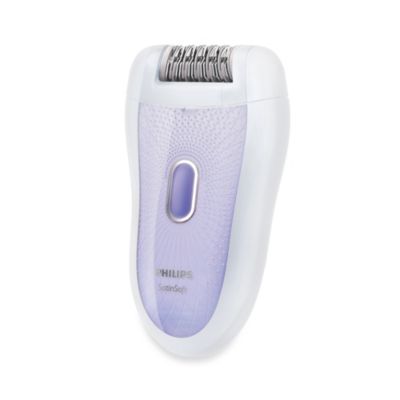 Philips Satin Soft Epilator
Price:
$69.99
Brand:
Philips
Categories:
More > Personal Care & Grooming > Grooming
Enjoy smooth, silky, hair-free skin, safely and easily. The Philips SatinSoft epilator's gentle tweezing action carefully removes unwanted hair while protecting the skin against pulling, leaving you with beautifully soft skin. Cordless and rechargeable.
Also check out:
$1.99

$0.99

Clearance!

Exclusively Ours

$24.99 - $34.99
(3 Reviews)
$99.99 - $179.99
(1 Review)

$17.99 - $22.99
(1 Review)

Queen $62.99 - King $72.99
(20 Reviews)

$179.99 - $249.99
(2 Reviews)

$19.99 - $23.99
(7 Reviews)