Braun® Syncro Replacement Foil and Cutterblock Combo
Braun® Syncro Replacement Foil And Cutterblock ComboNo Spoken Words
Braun® Syncro Replacement Foil and Cutterblock Combo
4
4
Not up to Braun's standards
I love my 7526 Synchro, but this latest foil/cutter combo redesign is awful. My shave time has increased dramatically, especially on my neck, and the results are not nearly as close or comfortable. This foil/cutter only lasted 3 months before developing a large hole in the foil. I don't believe it is a defective set, so I don't have high expectations for a replacement set. I may have to switch to another razor.
March 10, 2014
Foil and cutter block is inferior and drove me to stop using my razor
I have been a Braun Series 7 fan for many years. Recently I bought a new foil and cutter block for my four year old razor. The new foil makes the razor so noisy as to be undesirable to use and the cutting performance is way below par. Expensive razor, expensive cutting block; very poor quality and performance. Not what I would expect from Braun. Rick
November 21, 2013
Re-design of cutter very poor
I have been using Braun shavers for more than 25 years. My current shaver (7000 series) uses the 30B re-fill. This cutter/foil has been re-designed to obviously save on manufacturing costs. Braun apparently wants to produce inferior products and thinks this is a viable business model. Shame on the corporate executive who made this decision
September 1, 2013
Huge drop in quality
I used to get over a year from a cutter/foil set and the new 30B Series 3 barely last 3 months and the new foil is brutal if the hair is past a day long from blade razor. I so loved the razor before because it was one of the only ones that actually give you a close shave. The new 30B cutters have been redisigned to wear out quickly and not treat your face well. Going back to blades and shaving cream. I will pay $50 for a quality refill, forget about trying to hit a price point, just make a quality product.
June 22, 2013
Related Searches:
Similar Products: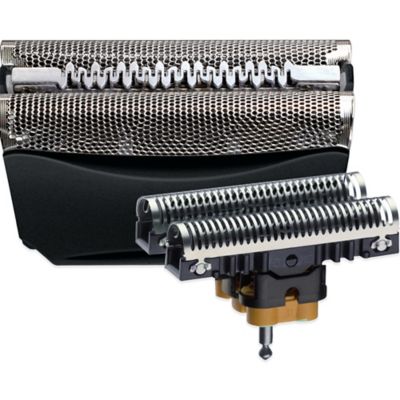 Braun® WaterFlex Shaver Foil and Cutter Combo
Price:
$43.99
Brand:
Braun
Categories:
More > Personal Care & Grooming > Grooming
Keep your Braun razor up to snuff with the Braun WaterFlex Shaver Foil and Cutter Combo that contains replacement parts needed to make sure you still get that smooth close shave on your face. It includes a screen foil and a cutter block.
Also check out:
$279.99

$40 Manufacturer's Rebate Available

(37 Reviews)

$99.99

$10 Manufacturer's Rebate Available

(4 Reviews)

$10.99

Free Standard Shipping

(92 Reviews)

$10.99

Free Standard Shipping

(127 Reviews)

Twin $109.99 - Cal King $199.99

Exclusively Ours

(2 Reviews)
$11.49

Free Standard Shipping

(70 Reviews)

$9.99

Free Standard Shipping

Exclusively Ours

(161 Reviews)

$9.99

Free Standard Shipping

Exclusively Ours

(139 Reviews)

$10.99

Free Standard Shipping

(3 Reviews)

$14.99

$7.49

Clearance!

(15 Reviews)

$19.99 Each

$9.99 Each

Clearance!

(12 Reviews)

$11.49

Free Standard Shipping

(35 Reviews)