"Braun® ThermoScan® Electronic Ear Thermometer" Is Not Available for Sale Online.
We have provided the content below as informational. Please view additional items Customers also viewed.
Related Searches:
Similar Products: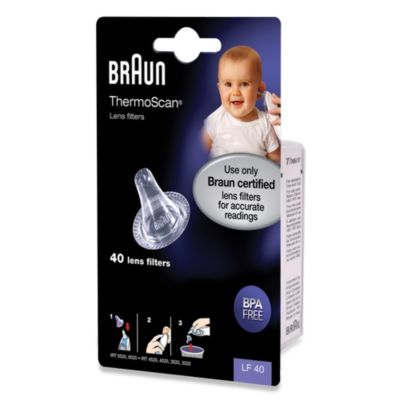 Braun® ThermoScan® Electronic Ear Thermometer Replacement Lens Filters
Price:
$8.99
Brand:
Braun
Categories:
Baby & Kids > Health & Safety > Health & Wellness
These replacement lens filters for the Braun ThermoScan Electronic Ear Thermometer are designed to assure accuracy and prevent cross-contamination. Helps ensure accuracy of thermometer readings. Includes 40 disposable lens filters.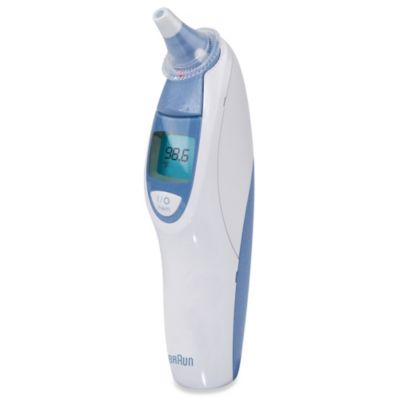 Braun® ThermoScan® Electronic Ear Thermometer
Customers Also Viewed
$14.99

$5 Bonus Gift Card with Purchase of $25 or more

(2 Reviews)

Diaper Pail $44.99
(1 Review)

$39.99

Beyond Value

(5 Reviews)
Frequently Bought With
$6.99

Exclusively Ours

(9 Reviews)
Memory function recalls last eight temperatures taken.
Also features an easy-to-read LCD-display that indicates temperature in either Celsius or Fahrenheit, auto shut-off after two minutes, and lens filter ejector.
Includes batteries and lens filters.
Model # IRT4520US.
SKU # 11705812
Braun ThermoScan? Electronic Ear ThermometerNo Spoken Words
Braun® ThermoScan® Electronic Ear Thermometer
6
8
it has been working great for 6 years
I was surprised to read the negative reviews for this products. We have it for almost 6 years and it is a life saver. It is quick and accurate. And there has been no need for us to replace the battery after all these years.
February 17, 2014
Horrible
Used this when my son caught the Flu. It was way off. He had a 101 fever and this read 96...many times. We bought the exergen temporal thermometer and love it.
February 9, 2013
Braum thermos an electronic ear thermometer
As nanny for 13 years I would still recommend this products to young moms of today. It's fast, easy and gives you the info if a child has fever or not. The plastic cups makes it easy and fast if you have mother child to get a reading. Kids move around a lot so it's fast and easy just to put in the ear and seconds later you get a reading. It's been around for a while. You won't have a screaming baby when getting the reading.
September 5, 2012
Great for whole family!
Have been using this for the past 2 years for the entire family. We love it! Very accurate. Especially fast and convenient. Kids don't mind getting their temperatures taken at all which is a nice change from the trouble I remember giving my mom as a child. My pediatrician's office uses the same one as well, so that must say something.
April 15, 2012
I purchased this thermometer for my daycare. I used it several times and its no where near as accurate, and the under the arm, or oral thermometer. The batteries also die quickly.
May 14, 2010
Not for beginners
We got this as a gift and it works great on us. My son is two months old and its a bit too big for him. I tried it a few times and got a reading, but when I compared it to a rectal thermometer it was off. I think its because he is still so small and its hard to get it in his ears. Works fine for grown ups, but would not recommend for new baby.
April 22, 2010