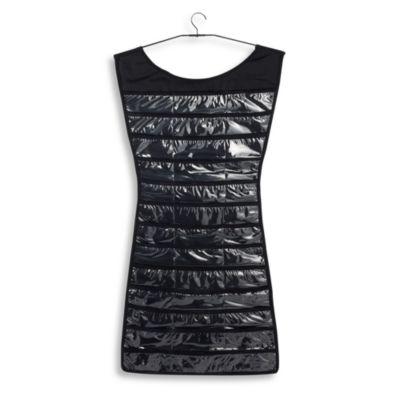 Umbra® Little Black Dress Jewelry Organizer
Features 39 clear vinyl pockets on one side and 24 hook and loop closures on the other.
Made from black cotton canvas.
Measures 18 3/4" W x 46" H.
1 year warranty.
SKU # 18869390
Umbra® Little Black Dress Jewelry Organizer
4
4
Jewelry Organizer to die for
This jewelry holder has been a god send. I keep everything right in sight. Easy to use. And very versatile. I Love it.
August 11, 2014
Little Black Dress
Love it! Bought it after my sister showed me her 2 dresses. I am happy with the description and price, just what I ordered!
June 24, 2014
Room for lots of jewerly!
Love all the pockets on the front and Velcro hangers on the back. Just wish there were Velcro closures on the front, above each pocket.
March 4, 2014
Great product
I am so glad that I ordered this "little black dress jewelry organizer! I now have only one place to store all my jewelry and have room to sort my jewelry into rows of gold, silver, & costume. I also think that it is safer hung in the clothes closet among all my clothes if I have a robber break into my home. I don't think they will take the time to move all the clothes hangers looking at my clothes to find this jewelry. Thanks for making this available to your customers.
September 17, 2013
Related Searches:
Similar Products:
Also check out:
$19.99 Each

Beyond Value

(46 Reviews)

$19.99

$14.99

Clearance!

(8 Reviews)

$14.99 Each

Exclusively Ours

$34.99 - $59.99
(101 Reviews)

$29.99

Beyond Value

(79 Reviews)
$11.99

Free Standard Shipping

(47 Reviews)

$69.99 - $89.99
(12 Reviews)

$59.99 - $79.99

Excluded from Pack and Hold

Beyond Value

(198 Reviews)

Twin $49.99 - King $69.99
(9 Reviews)

$9.99

Beyond Value

(1 Review)

$89.99 - $119.99
(36 Reviews)

$11.49

Free Standard Shipping

(46 Reviews)