222 Fifth Comino 16-Piece Dinnerware Set
222 Fifth Dinnerware comes in a crimson red and black pattern that creates a beautiful one-of-a-kind finish
Set includes four of each:

10-4/5" dinner plate
8-3/4" salad plate
5" bowl
10-ounce mug

Made of durable stoneware
Microwave and dishwasher safe
Imported
SKU # 40150673
222 Fifth Comino 16-Piece Dinnerware Set
7
7
Love this set!
I received this set as a wedding gift and I love it! The plates are very large but still fit nicely in my cabinets. I didn't have any problems with the dishes being cracked or broken but they also were not shipped to me. They are great quality and absolutely gorgeous!
October 6, 2014
Good aet
I really like this set. Strong and durable but elegant
September 22, 2014
Chipped!
All I have left of my 12 pieces is 10 Dinner plates and only 2 Salad plates. All other plates have chipped - right off the bat. Unacceptable.
February 18, 2014
Nice if you like broken dishes......
I have bought several of these sets now only to find the large dishes on the bottom are completely broken in every set. Next question is how in the heck did they restock broken returned dishes to the shelves at this store. Not happy at all!
January 12, 2014
Multiple tries
You may want to open the box and check each individual item before leaving the store. The first box I grabbed had two broken plates. The second box had a broken bowl. Third box was fine. Other than apparent poor packaging/handling, these seem to be ok. Only time will tell.
January 5, 2014
Beautiful but Disappointing
We registered and received two sets of these for our wedding which we saved till we moved into our new house. February 2014 will be three years in our house and unfortunately our dishes are all chipped up already. This is very disappointing especially for what they cost; our dishes before this set were a 1/4 of the price, we had them for 6 years and they had not one chip. I am very disappointed and am currently looking to replace them!
November 23, 2013
Not the most reliable
The plates are great and very fashionable, however actually getting a full set of them unbroken is no easy task. My wife and I registered for two sets of them and it took 5 returns to finally get two sets of the plates that did not have a broken plate, bowl, etc in the box. I don't think that the plates are poor quality I just think they are not very well packaged since 5 out of the 7 boxes we came into contact with had something broken in it. I would recommend the plates, we love them now, but open all the interior boxes before you take it home to make sure they are all in good working order otherwise you'll be back!
June 27, 2013
Related Searches:
Similar Products: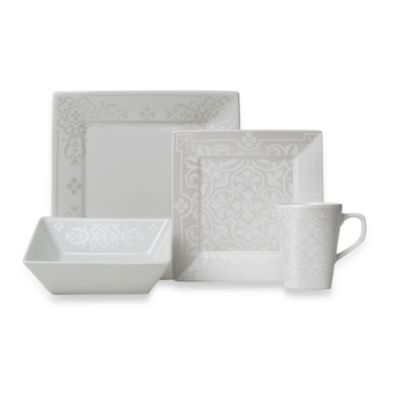 222 Fifth 16-Piece Astoria Platinum Dinnerware Set
Price:
$79.99
Categories:
Dining > Dinnerware > Dinnerware Sets
This interesting, square 16-Piece Astoria Platinum Dinnerware Set features an elegant white-on-white pattern of shimmering white scrolls on white fine for beautiful, everyday dining.
Also check out:
$79.99

Exclusively Ours

(9 Reviews)

16 Piece Set $34.99
(2 Reviews)

16 Piece Set $59.99
(4 Reviews)

16 Piece Set $69.99
(7 Reviews)

16 Piece Set $67.99
(1 Review)

16 Piece Set $19.99
(37 Reviews)
8 Piece Set $14.99
(6 Reviews)

$19.99

Beyond Value

(22 Reviews)

16 Piece Set $29.99
(4 Reviews)

$8.99

Exclusively Ours

(3 Reviews)