Breville® the Smart Grinder™ Model BCG800XL
This powerful grinder has a large capacity bean hopper that holds up to 1 lb.
of coffee beans and has an air-tight lid with a locking system for easy removal, storage and transfer of beans.
The Dosing IQ™ automatically calibrates each dose every time the grind settings are adjusted.
This machine automatically grinds for direct dosing into a portafilter, a grinds container or a drip filter basket and allows for manual strength adjustment (weak/strong).
The sleek, stainless steel grinder features a backlit LCD screen that displays 25 grind settings, number of cups/shots and customized grind amount.
It includes two portafilter cradles, a grind container and a cleaning brush.
Measures 15 1/2" H x 8 1/4" W x 6" L.
Model BCG800XL.
SKU # 17777521
Breville® the Smart Grinder™ Model BCG800XL
Different types of coffee - drip, espresso and French press need specific grind sizes and the amount that you grind will also affect your coffee's taste.
Introducing the Breville Smart Grinder with dosing IQ. It takes all the guesswork out and gives you the precise amount of coffee depending on the grind.
To get the freshest grind it's best to grind coffee beans immediately before brewing. And you should only grind the exact amount you intend to use. As many coffee aficionados know a conical burr grinder like the Smart Grinder is better for the bean than a blade grinder. And this is because they produce less heat keeping beans in their best state.
To use the Smart Grinder, load up the hopper with fresh beans. The side dial lets you scroll through the LCD screen and its 25 grind settings. Coarser grinds like French press, filter and percolator are all displayed in cups. Finer espresso settings are displayed in shots. The fine setting would be better suited to an espresso machine that uses a dual wall filter or one that's fully automated. And then the extra fine settings would be suited to an espresso machine that uses a single wall filter.
Next press the amount button to set the desired amount of cups or shots. But if you know that you like your coffee a little bit stronger turn the adjust dial to the right. You can see that the bars go up and this increases the amount of coffee grinds by 5% per bar.
The Smart Grinder comes with two cradles depending on which espresso machine you have. And with the auto one touch you can grind directly into your pot or filter. And it's normal for this to be overfilled before you tamp. Or for drip coffee and percolator you can grind into the container. It's best to keep the lid on so that the grinds don't escape. And you can also see the cup guide on the outside. Or you can grind directly into a paper filter basket.
Be sure to regularly clean your burrs because coffee oils can build up inside. To do this just empty any beans and then run the grinder until empty. Then remove the bean hopper and the upper burr. Clean the upper and lower burrs with the included brush and also clean the grinder outlet. Then push back the upper burr firmly into place and align the bean hopper into position.
The Smart Grinder, brought to you by the food thinkers of Breville.
Breville® the Smart Grinder™ Model BCG800XL
28
28
I have not had good luck with this grinder. I retuned it once because it stopped grinding. The motor would slow down and not grind. I got another one and it is doing the same thing. I have two of these grinders I am retuning them both. I am very in happy.
September 12, 2014
Not for daily use?
This is the second (expensive!) Breville product I've purchased that uses a burr mill grinder, and the second one that has broken within months. I grind my coffee fresh daily before brewing, and assumed this grinder would hold up due to its price and advertised durability. I am very disappointed.
August 2, 2014
So worth the money
This was a very expensive purchase but I am so glad we bought it now. It is quiet when grinding. It is easy to use. It is fairly easy to clean. The design of the plug is pure genius. We have had this for 2 months now and we use it weekly. Our coffee tastes perfect (we have a French Press) and we are so impressed with this grinder. If only all appliances worked this great!
July 22, 2014
Not Recommended!
The most course setting on this grinder is too fine of a grind for a french press! It is even too fine for a Keurig filter. I would not recommend this for french presses or Keurigs!! Buyer beware! Keep researching other grinders.
May 21, 2014
Great Grinder
Shopped around for a good quality "burr" coffee grinder. This one from Breville was easily the best that I found! Works perfectly. Fits nicely in my kitchen as it is not a large and overpowering as it looks like in the photos.
May 5, 2014
This grinder has great features
I bought this grinder along with a Breville 840xl Infuser espresso maker. It has nice features that let you program and fine tune settings for different grinds and doses. I bought this for use with my espresso maker but now I'm also grinding for my coffee maker and just recently, my french press. It took a little practice but once I got use to the different grind and dose settings, I was impressed with how versatile this grinder is. I like the fact that the hopper is removable so you can change from one type of bean to another and it also makes access to the removable grinding burrs easier for cleaning. Just twist and pull. It comes with a canister that fits into the grinder so you can pre-grind coffee beans and store them for later. There's two different size saddle that hold the portafilter in place while dosing the grinds. You can also remove it and manually dose the grinds into the portafilter. If you spill any of the grinds while dosing,(which you probably will), the base has a removable tray so cleaning is a snap. You can find a lot of reviews on YouTube if you want more details.
May 5, 2014
Works Great
Just what I was looking for! I use a drip coffee maker, and grind the coffee directly into a paper filter. After adjusting the number of cups, fine tune the amount with the more/less button. If you leave the grinder plugged in, settings stay in memory so all you do everyday is put filter under slot and hit start. My old grinder caused a lot of coffee dust and required cleaning counter tops every day. Have not had to clean counter tops once. If small amount of coffee does fall from grinder after removing filter, it lands on removable tray on bottom, held in place by magnet, and is easy to clean.
May 3, 2014
AWESOME!!
I read a review before purchasing this grinder that said the coffee tasted so much better and I thought, ' yeah, right... how much different can a grinder make', let me tell you, the difference was night and day. We like strong coffee and with our old grinder we would pack the cup on our Keurig® single cup coffee maker and it was good... but let me tell you, the very first sip and I was amazed at how MUCH different it truly was. So rich, dark and strong without any bitterness! I HIGHLY RECOMMEND this grinder. There was a slight learning curve since we didn't read the manual completely ( we were like two kids at Christmas tearing into this thing!!) Once we learned 1. to push the container for the ground coffee ALL the way in till it catches on the magnet and 2. to only use enough beans to use in a day or two so you grind all of the beans and don't leave any in the hopper, we are 500% satisfied with this grinder. Just so you know, if you just fill the grinder with a pound of beans and grind enough for a day and leave the beans in the hopper without letting it grind all the beans out, the oils from the beans and the fine coffee grinds left in the burrs combine to bog it down and you have to take it apart to clean it, which by the way is pretty easy too. Hope this helps and enjoy perhaps the best cup of coffee you will EVER have!
March 10, 2014
Related Searches:
Similar Products: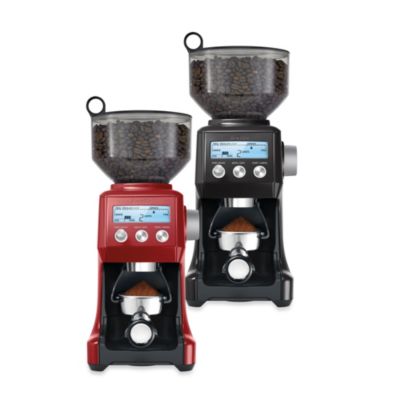 Breville® Smart Grinder™
Price:
$199.99
Brand:
Breville
Colors:
black, black/silver, red
Categories:
Kitchen > Small Appliances > Coffee, Tea & Espresso
The Breville® Smart Grinder™ with Dosing IQ technology to automatically adjust the dose whenever you calibrate the grind setting. Features an LCD display, 25 grind settings, 1-lb. capacity plastic hopper, and an air-tight storage container.