The Sharper Image® Mixing Bowls with Non-Skid Base (Set of 3)
Set includes one 5-quart, one 3-quart and one 1.5-quart bowl.
The 1.5-quart bowl includes a storage lid to protect contents and seal in freshness.
Durable stainless steel is great for baking, prepping, mixing and measuring.
Bowls nest when empty for storage.
Imported.
SKU # 18823314
The Sharper Image® Mixing Bowls with Non-Skid Base (Set of 3)
8
8
Best Kitchen Helpers
these come in the perfect sizes and the non-skid bottoms are a PLUS!! I use them on all my kitchen surfaces. these are a must have for any well used kitchen.
May 2, 2013
Love These!
The non-skid base and pouring spout are particularly helpful!
January 14, 2013
Great!
I love the non skid bottoms of these bowls the handles are kind of sharp though.
January 11, 2013
Good icing bowls
I only wish all 3 had lids! These have been a good addition to my kitchen, I love the nonskid bottoms.
January 2, 2013
nice mixing bowls
I think these mixing bowls are a must have for any kitchen. And I love the lid--it is so useful. All in all, these were exactly what I was looking for. The non skid bottoms is a bonus.
December 13, 2012
Works great
I love these mixing bowls, they do not move unless you want them to. And the handles are perfect for pouring. I have no idea what the other reviewer was talking about with the handles being uncomfortable, I have been a professional baker for 10 years, at some of my bakeries I would have killed for these bowls, they are easy to pour because of the handles and because of the spout. I also, didn't have any sharp edges on mine, and have been using them for almost anything I need to mix, at any meal I am making.
August 7, 2012
Highly Recommend!
After purchasing my colored mixing bowl set from The Sharper Image i decided to go out and buy the Stainless steel version as well. and i have to say these are great, the ease of having the pour spout with the handles is excellent i also love how they incorperated the measuring inside the bowls. I suggest these bowls to any real Chef out there
July 12, 2012
Handles are sharp
I purchased this set but returned them after using one of the bowls. The metal handles although seem like a good idea are extremely uncomfortable to hold. My set had a sharp corner and cut my finger. The rubber bottoms are nice and so are the preformed spouts but again, the handles are uncomfortable.
June 16, 2012
Related Searches:
Similar Products:
Curtis Stone Hold Me Mixing Bowls (Set of 3)
Price:
$49.99
Brand:
Curtis Stone
Categories:
Kitchen > Bakeware & Baking Tools > Mixing & Prep Bowls
Maintain a firm grip on this set of Curtis Stone Mixing Bowls as you stir, whisk and mix thanks to a convenient handle. The bowls are designed to stay in place on a counter due to a non-slip base, while measurements are listed on the side.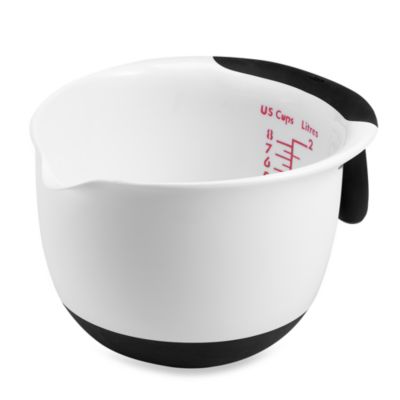 OXO Good Grips® 2-Quart Batter Bowl
Price:
$12.99
Brand:
OXO
Categories:
Kitchen > Bakeware & Baking Tools > Mixing & Prep Bowls
Batter bowl has bright, red measurement markings for better visibility and high-side walls to prevent splattering when mixing. The non-skid base stabilizes bowl while mixing, and the wide lip and spout make it easy to pour ingredients.
Also check out:
$7.99 - $11.99
(16 Reviews)

$11.99 - $19.99
(1 Review)

$19.99 - $34.99
(12 Reviews)

$12.99 - $19.99
(13 Reviews)

$24.99 - $29.99
(54 Reviews)