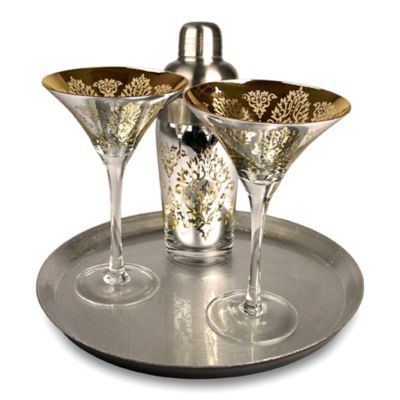 Brocade 4-Piece Martini Set with Tray
Set Includes:
Two 8-ounce martini glasses.
20-ounce glass martini shaker with metal top
12" metal serving tray.
Hand wash only.
SKU # 18068826
Brocade 4-Piece Martini Set with Tray
5
5
Martini Set
Excellent purchase. Would not hesitate to recommend to my friends.
September 29, 2014
Total junk
Though I registered for this product, i wish i took heed to the negative review and steered clear. Though the shaker and glasses are beautiful, the shaker is completely impractical. It leaks when you shake it and the beverages go everywhere when you try to pour in the glass. Total piece of junk and waste of money. If you want a beautiful shaker that only looks nice and doesn't work, this is for you.
July 30, 2013
Great for Martini Night or single martini
This item was purchased for me for my wedding. I purchased for my sister in law as we share Martini love. It is absolutely gorgeous! I love it and so does she. Now my other sister-in-law wants one.
April 11, 2012
Quite horrible.
The tray is not metal and it is scratched. It looks like silver painted cardboard with a plastic bottom. The gold/bronze paint is on the interior of the glasses and shaker and is not sealed, so there are little paint bubbles everywhere. I imagine a good shake with ice would chip the paint in an instant. Mmm, tasty paint flecks in my drink! I put everything back in the box and am returning it. Incredibly disappointing piece of rubbish. ZERO stars.
July 19, 2011
LOVELY
The glasses and the shaker are BEAUTIFUL! The tray doesn't feel like metal though, it's the only disappointing part of the set. However, if any piece is going to be a disappointment, better the tray than the glasses or shaker!
June 10, 2011
Related Searches:
Similar Products: