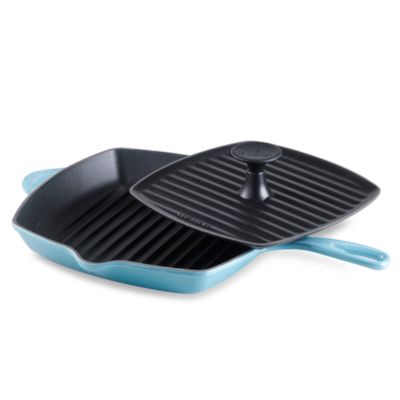 Le Creuset® Panini Press and Skillet Grill Set in Caribbean
Le Creuset Panini Press and Skillet Grill Set is great for preparing delicious hot sandwiches, paninis and melts
One-piece, enameled, cast iron construction for durability
Convenient pouring lips
Sturdy knob and stick handles for confident handling
Skillet grill measures 11.8" L x 17" W x 2" D
Panini press measures 9.2" L x 9.2" D x 2.3" D
Oven and dishwasher safe
Suitable for use with all stove types
Limited lifetime manufacturer's warranty
Imported
SKU # 40034539
Le Creuset Panini Press and Skillet Grill Set - Caribbean
ARTISAN QUALITY
In the 1920s a food revolution was igniting in France with the Renaissance and culinary thinking catapulting French cuisine onto the world stage. On the heels of this radical change, and inspired by its passion for slow cooking, LeCreuset was born in 1925 with the creation of the original French Oven. LeCreuset's renkowned enamled cast iron cookware has been made by generations of passionate French craftsmen ever since. Dedicated artisans under one roof in the original foundry in the North of France continue that tradition of style and quality today. Every single piece of our enamled cookware passes through the hands of at least 15 artisans before leaving the foundry. Each unique black packed sand mold used to cast the cookware is destroyed after use insuring no two pieces are identical. The newly cast piece then receives at least two coats of enamel, a ground coat followed by a color coat ensuring a highly durable finish that resists chipping and cracking. Our passion for quality is apparent in the beautiful range of hand finished products that bear the LeCreuset name and with a lifetime warranty that guarantees them all. Your passion for distinctive cooking will be evident in the smiles on your and your family's faces. LeCreuset made by artisans for a lifetime of enjoyment.
COLORS AND MATERIALS
Only LeCreuset, the most recognized name in its field was founded by a casting expert and an enamaling expert, so it's no surprise that since 1925 the company has led the way in bold unique rich colors that people love on its enamaled cast iron cookware. LeCreuset's classic colors are an iconic extension of the brand particularly the original volcanic flame along with cherry and black. But LeCreuset also does extensive research that allows the introduction of exciting new colors that are on trend of the moment and immensely collectible. A diverse and ever evolving palate provides variety to compliment your kitchen as much as your food. LeCreuset's expertise makes for perfectly color-matched products across its entire range of cookware from skillets to saucepans to French ovens, and in addition to its unrivaled splash of color and style, our exterior enamel is hard waring and durable with a smooth as glass surface that makes it easy to clean and care for. LeCreuset - the best colors, the highest quality, the finest cookware made in France since 1925.
DESIGN
Only LeCreuset has been deisgning and handcrafting premium enameled cast iron cookware in France since 1925 and with nearly a century of expertise, quality is engrained in everything we do Our need for performance extends across all product categories and materials from cast iron to kitchen tools, no detail is overlooked. Consider the ergonomic handles on our castiron French ovens or the elegant tight fitting lids specifically designed to continuously return natural juices to food as it cooks, locking in and enhancing the flavor. LeCreuset cast iron is designed to be the lightest on the market without any sacrifice in performance, the lightest weight per quart in a design that is substantial enough to take advantage of cast iron's heat routine and characteristics yet light enough to move easily around the kitchen. LeCreuset's dedication to quality and commitment to design is unmatched. if you're passionate about cooking, you'll be passionate about LeCreuset.
EASIEST TO USE AND CLEAN
Handcrafted in France since 1925, LeCreuset premium enamaled cast iron cookware is the most recognized name in the industry for many reasons. With its elegant smooth enamaled finish, refined over decades by skilled craftsmen, LeCreuset cookware is incredibly easy to use and clean from the skilled chef to the occasional at home cook. LeCreuset is high performing, forgiving and fun no matter what cooking surface your kitchen has. It's ideally suited for gas, electric, and with its natural magnetic properties induction cook tops. Use it on the stovetop, on the grill or in the oven. The glass-like enamel cooking surface is completely food safe, and like glass it doesn't stain or absorb moisture, flavors or odors, It easily goes directly from the refrigerator or freezer to the oven, so it's perfect for marinating and then cooking. With its ability to retain heat, it not only cooks beautifully on lower heat settings, it also keeps food hot on the table. LeCreuset cookware doesn't rust and it's ready to use as soon as you get it home, no seasoning required. Its non-pourous sand colored surface keeps stains from seeping or blending in and remains better looking over time. it also helps you monitor cooking progress and helps avoid burning while sauteeing, searing or browning. It's simple and quick to clean. It can be safely washed in the dishwasher though it is not usually necessary or to elongate its life, wash by hand. Just soak in warm water after cooling and scrub with a soft nylon brush or pad. With basic care it looks and cooks like new for many years. LeCreuset - Versatile, beautiful and easy to use for a lifetime of enjoyment.
FEATURES
VIDEO 1
LeCreuset skillets boast a transparent satin black interior enamel that needs no seasoning. Traditional uncoated cast iron requires a seasoning to provide a smooth cooking surface that won't rust. LeCreuset skillets available in a variety of sizes and shapes feature a ready to use no maintenance cooking surface ideal for frying, charring and blackening.
VIDEO 2
The non-porous satin black interior enamel of the LeCreuset skillet is specifically designed for the high temperature searing and browning of meat and fish.
VIDEO 3
Cookware that just gets better with time. The skillet interior allows a patina to build which enhances cooking performance.
VIDEO 4
Each piece is individually cast in sand molds and inspected by 15 artisans as it makes its way through our original factory where every piece of LeCreuset is made under one roof in the North of France.
Related Searches
Similar Products