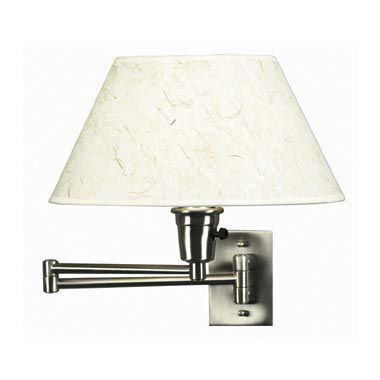 Kenroy Home Brushed Steel Swing Arm Sconce Lamp with Natural Fiber Shade
Cord cover included
Uses a 3-way 150-watt bulb (not included)
Measures 12" H
Extends 19" out
UL listed
SKU # 12807040
Kenroy Home Brushed Steel Swing Arm Sconce Lamp with Natural Fiber Shade
3
3
Looks good, works good BUT.... a concerning Flaw
Without a handyman husband to set up this lamp on the wall, I'd have been totally unhappy. There was an inside metal piece missing (only had one), for inside the metal wall tube to hide the cord, and that was disappointing and would make the return an even longer time without a light. However, my real concern now, is whether to return it or not, because buying them online does not allow you to view any bases, inside under the shade. They are all different, and this one, poorly made. It has a clumsy tension retainer hoop at the base of the lamp socket. It is very difficult to get in, and does not hold securely. I'd have to tell everyone not to touch it, cos it'll fall out, and it already did with barely a touch from me, causing the new 3 way light to blow. Scared the daylights out of me. You cannot place the bulb in AFTER you attach the base, due to that type shade.
November 13, 2013
Good lighting, Right size, Terrible base for bulb
It's true: you cannot see the fiber flecks on the shade, but the white (vs yellow tint# is just what I need for brightness. I wanted to buy another of this model, for its style, but you have to pinch hard to remove or reposition shade rightly, and I ended up with a loud snap, and a brand new Reveal incandescant bulb blown # all phasing out unfortunately soon.). Then I read the tag on the base: "fire hazard" and it didn't take much to make me fearful of an electrical fire, when I have to readjust the base again. Kinda' scary. With a 20% online coupon (they seem very scarce vs in store coupons), I need to get 2 similar styles. You cannot tell what bases they are, and the other one I got is totally different--replacing shades is not going to be easy AT ALL!
November 10, 2013
sent dammaged,shade nothing like photo
Once again I have tried to order lamps on line. I believe both times from the same manufacturer even though bought from different sites. First of all, the shade is WHITE. Even though there are WHITE" fibers" in the shade- no fibers show through. Very deceiving photo Opened the first lamp to discover a scratched face plate. Made my head shake but I was willing to overlook. Because, I really wanted to be done- this was after all my second try. Opened the second box to discover that it had obviously been repacked- and that they sent a damaged lamp shade. It has a 2 inch gash in the side. REALLY? That was the last straw. So disappointed Bad manufacturer- bad site for selling them.
October 25, 2013
Related Searches:
Similar Products:
Also check out:
$9.99

Exclusively Ours

(67 Reviews)

$49.99 - $119.99

Exclusively Ours

(10 Reviews)

$59.99 - $79.99

Beyond Value

(194 Reviews)

$79.99 - $129.99
(1 Review)

$5.99

Exclusively Ours

(13 Reviews)
$29.99 - $79.99
(137 Reviews)