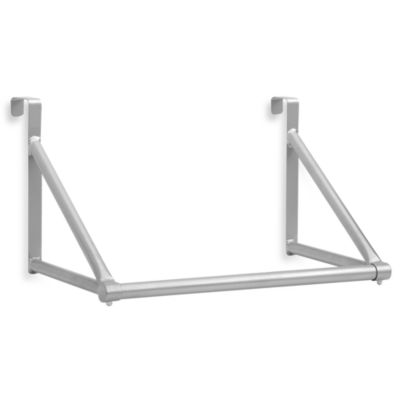 18-Inch Over-The-Door Closet Valet
Easily hangs over any closet door.
Coat rod holds coats, pants, shirts and other wardrobe items on a hanger.
Measures 18" L x 10" W x 10" H.
SKU # 40131917
18-Inch Over-The-Door Closet Valet
15
15
Very practical
This solved our problem of where to hang delicate clothes to dry in a tight laundry room. Easy to put together.
September 1, 2014
Extra closet extender
This is so handy to add a little more hanger space on the back of a door. It assembled easily and seems to hold quite a bit of clothes. I use it to hang my laundry after it comes out of the dryer.
August 21, 2014
Does what it says it will do
Nice product, does what it is supposed to do, nice price, easy to assemble, price is right!!
August 11, 2014
Not That Great
Function wise, this may be great for some...just ok for me. I would have kept it, if I felt the quality was better. I should clarify...I think it probably has a sturdy structure...I just didn't like easily seeing the 'gloppy' welding areas at the joints. I thought it was going to look more finished. I felt it looked really cheap. For the price, I'd rather put the money toward a different one. If you don't care what it looks like, and the size suits your needs...this would probably work for you. I hope this was helpful.
August 5, 2014
Love it love it love it!!!!
The Value is terrific!! I have had so many over door hangers and hooks and you name it.. But this is by far THE BEST! It's heavy duty the hooks that go over the door itself are very very sturdy and I have it loaded and I mean loaded with clothes!! It holds ALOT! I buy online and in person ALOT only to be disappointed in quality - you will definitely be happy with this product! It's like having a bigger closet!!! LOVE IT! Came online to buy 2 more!!
December 11, 2013
Perfect for my needs
This over-the-closet hanger is perfect for my needs. It does a great job holding all of my husband's police uniforms, vests, and paraphernalia!
August 8, 2013
Closet Valet
I love this over-the-door closet valet. It is perfect for hanging newly ironed clothing to keep them wrinkle free until ready for use. I like to hang delicate wash on it to dry. Perfect for having your clothes ready for next day wear. The bar comes out at a perfect distance to the door for most any hanger.
August 1, 2013
Great product
What a great idea for people with little room to hang laundry to dry (or waiting to be ironed if you still do that) Plan on buying one for my daughter too.
July 20, 2013
Related Searches:
Similar Products: