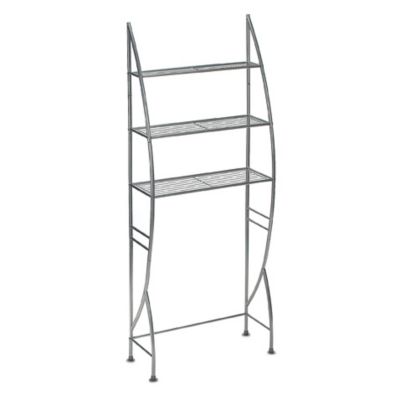 3-Tier Metal Space Saver Silver Finish Shelf
Measures 64 1/2" H x 24 5/8" W x 10" D.
SKU # 16471259
3-Tier Metal Space Saver Silver Finish Shelf
23
25
Great Product
Putting this together was very quick, and I was surprised to see that it came with wall anchors. Even without the wall anchors, it seems sturdy. The price was great and it fits exactly what I need it for, especially since I have a very tiny bathroom.
December 23, 2010
very nice and sturdy
it is very nice to look at and very sturdy. It does not wobble. The only issue was the shelving gaps were too wide and the stuff you put on it falls through or does not sit right. Ok if you are only putting towels or big bottles of something on it.
July 31, 2014
great
This product could be useful in small bathroom. Price is great too- great value. Thanks!
July 29, 2014
Spend a little more for a better product
Just bought this for a small bathroom. I should have read more of the reviews. Very poor alignment for the screws and 2 of the screws actually would not go all the way in. I guess the old adage of 'you get what you pay for' is correct in this instance. Wish I had just paid a little more and gotten this somewhere else.
July 12, 2014
Cheaply made with sharp, unfinished edges.
This product should be ripped from the shelves immediately. The seams where it had been soldered together were jagged and open, resulting in a sharp cut to my hand. Although it was easy to put together, it is not sturdy and sits unevenly. We repacked it and brought it back to the store.
October 14, 2013
3-tier metal space saver silver finish
I purchased this shelf for my son who lives in Grand Rapids, MI. He was not able to assemble it when it arrived because of defective screw alighnment. He retured it to the Grand Rapids, MI store and obtained a new one. When he got this home, the new shelf would not go together either. He retured it to the store and got a store credit. He is still in need of a shelf!
September 23, 2013
Horribly Disappointed
The holes did not line up, so we're returning this immediately. I guess given the low cost, we shouldn't have expected a spectacular product, but at least being able to assemble it should be a requirement to go on the shelf. From reading other reviews this seems to be a manufacturing problem with some people getting an acceptable product and others (like us) having issues with the hole alignment.
September 22, 2013
This space saver reall saves you space.
I would recommend this product to anyone that needs extra space, not just in your bathroom. If you have extra towels or extra clothes the 3-tier space saver silver finish shelf is perfect. It looks great and is easy to put together.I wish I had purchased two space saver shelves when I ordered mine. It's great for paper products as well.
September 17, 2013
Related Searches:
Similar Products: