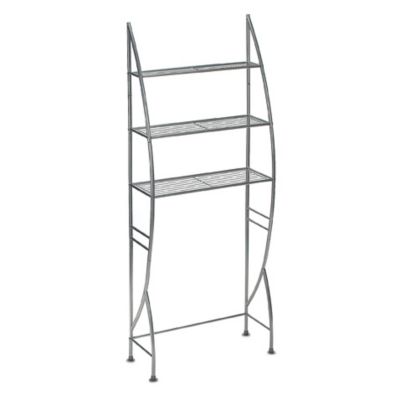 3-Tier Metal Space Saver Silver Finish Shelf
Measures 64 1/2" H x 24 5/8" W x 10" D.
SKU # 16471259
3-Tier Metal Space Saver Silver Finish Shelf
31
35
Great Product
Putting this together was very quick, and I was surprised to see that it came with wall anchors. Even without the wall anchors, it seems sturdy. The price was great and it fits exactly what I need it for, especially since I have a very tiny bathroom.
December 23, 2010
This product is great for my small laundry room.
I love having the extra shelves for all the necessary products that I use on laundry day such as detergent, softener, stain remover etc. I love it!
November 5, 2014
Good for the price
This is a basic shelf with no frills but worth the price.
October 27, 2014
The quality was poor. Some of the pieces were bent and dented and scratched when I received it. One of the holes for the screws was already stripped. Would not recommend.
October 6, 2014
Wish it was more stable, good for cramped bathroom
This is a great space saver for the price, I just moved into a new apartment with a very strangely set up bathroom and I really needed somewhere to put my towels, toilet paper refills and small decorations; However I don't like how unstable it is. I have a small candle and reed diffuser but they feel unstable on the wire rack since the wires aren't flat and are kind of malleble. It also leans a little bit if you don't screw it into the wall; I feel like something that rests on the floor shouldn't have to be drilled into the wall, which I cannot do because I live in an apartment
September 22, 2014
Pretty simple
It looks really hard to put together but it's actually quite easy. You do need tools though or well a screwdriver… I'm happy with this product gives me all the necessary shelf space that I was lacking in my bathroom.
September 14, 2014
LOOKS GREAT
Unlike other reviews, I found it easy to assemble. I think because I have put together more than 1 or 2 items before, I knew better than to completely tighten screws until all were in place. Looks great--VERY GOOD BUY
September 14, 2014
Really?
OK, I wasn't expecting great quality for $29.99, but seriously … this is easily the worst $29.99 I've ever spent on an item, and I've (unfortunately) wasted a lot of money in the past. The quality is horrible, holes don't align, or they're filled with some sort of hard plastic so that you cannot push pieces into each other. It's not particularly steady, and the sides are uneven. Ridiculous! I think it's too much trouble to try and take apart and box up to take back to BB&B. The only plus, was the super fast shipping time. But, I suppose they just wanted this hunk of junk out of their warehouse.
September 10, 2014
Related Searches:
Similar Products: