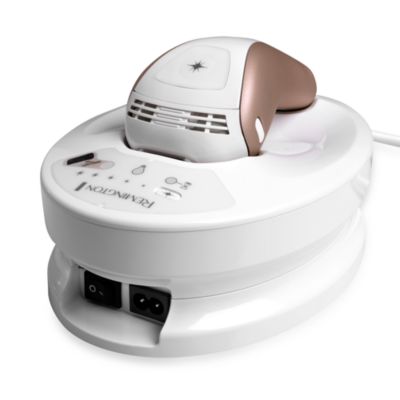 Remington® iLight Professional Hair Remover
This FDA cleared and clinically proven hair remover features proprietary ProPulse technology that delivers results that last six months.
It provides fast treatment times with a quick flash rate and no downtime for recharging.
Hair remover also includes built-in skin tone sensor, skin contact sensors, five energy levels and corded operation.
One-year warranty.
SKU # 40206394
Remington® iLight Professional Hair Remover
iLight Pro is compact, intuitive and easy to use. The system consists of a base unit and hand piece.
Through a window on the hand piece you will trigger light flashes that will disable hair follicle growth.
Now, let's look at some key features. This is the skin tone sensor. Each time you turn on the unit you must unlock it by placing the area to be treated over the sensor to determine if your skin tone is appropriate for treatment. If your skin tone is too dark the unit will not operate.
This is the energy level setting. Energy level indicator lights determine the intensity of the iLight Pro light flash delivered to the hair follicle.
iLight Pro has five energy levels. When the system is turned on it is automatically set to one, the lowest energy level. Adjust the energy level by pressing the energy level button until the desired level is reached. Higher energy levels mean more effective hair removal, but may be less comfortable. For best results use the highest setting that is comfortable for you.
In rare instances the system will heat up either due to to room conditions or through prolonged use. In those instances the cool down light will illuminate and the unit will temporarily stop working. Please be patient as the unit will regulate itself and return to normal operation momentarily.
The replacement cartridge status indicator tells you when iLight Pro is prepared to deliver a pulse, and indicates when the cartridge needs to be replaced. Make sure the device has cooled down and unplug the iLight Pro before replacing the cartridge.
The skin contact sensors must be flush against the skin to operate. When the skin contact sensor detects that proper contact has been made; you will hear a chirp. At that point press the flash button to activate a light pulse.
Remington® iLight Professional Hair Remover
70
70
Impressed!
I've had the iLight Pro for about a year and a half now and have yet to be disappointed. I've followed the directions and after a couple of treatments am hair-free. The pain factor is pretty minimal. The only thing I don't love is the size. The amount of skin that can be covered in one zap is pretty small so it can take awhile to do a treatment, especially on larger areas like the legs. It'd also be nice if the cartridges would last a bit longer, but they do seem to have come down in price since it first came on the market. All-in-all, this machine is worth the price!
December 27, 2013
Doesn't work for fair skin
I just bought the Remington i-Light 6000. I have very fair skin and my hair is light brown. I put my arm in the testing spot and it buzzes and the light turns yellow. My mom who has darker skin than I does the exact same thing and it beeps and the light turns green. I know that if you have dark skin you can't use this product, but I have the lightest skin ever. (In fact all of the makeup I try on is too dark even in the lightest shade; so I have to buy white makeup to mix with the lightest shade.) SO BOTTOM LINE IS BEWARE BECAUSE IF YOUR SKIN IS LIGHTER THAN NORMAL IT WON'T WORK!
July 4, 2012
Best laser at home product. Just need a new light
Great in price and fullfilling it's duties. I must order anew light
July 9, 2014
Very dissapointed
DO NOT expect the same outcome as you would have in a salon. It wont happen!! It's almost a toy. Maybe they thought there would be too many safety issues but for the time it takes ( you need a huge amount of patience) it's not worth it. I got more accomplished with an epilator. The area of the flash is so small, it only works on 2 or so hairs at a time. And forget 6 months.( I think that's if the hairs are dormant).Unlike a real laser salon, the hair comes back and all that patience is wasted. I did my legs, under arms, and bikini several times, buying new bulbs in what it seemed like every other session. After several months and seeing very, very little results, (I took pictures of the before and after each session), I went back to my previous regime.
June 27, 2014
works ok
I've used it for about 3 months now and I've noticed a little bit of change. My hair does grow back slower but its not the results that I thought I would get. I use it on my legs, underarms, and stomach. I've only used it on the lowest setting though because it does kinda burn. not sure if turning it up would make it work better.
May 11, 2014
Bulb burned out during first session
It seems like this product has a good design, but the cartridges are bad. My cartridge lasted only about about 50 flashes before it stopped flashing. I really want to continue with this product to properly review it, but I'm so reluctant to buy any more bulbs. The price will add up too quickly if I only get defective bulbs...
May 11, 2014
PRODUCT WORKS IF YOU'RE PATIENT--BEST PRICE AT COSTCO
The area covered is small so PATIENCE is definitely required. As time goes by, more hair roots are permanently destroyed and I use it less frequently. I STRONGLY recommend looking away or closing your eyes to avoid the bright flash of light. I use it on my legs, bikini and underarms and a cartridge last 3-4 full treatments. I purchased at Costco and compared to I-Pro (full) retail or professional laser hair removal at a salon, Costco offers excellent savings. I've used the Emjoi Emagine Epilator for years and therefore leg hair removal with the iPro is almost pain-free on the highest setting. I use a 3 setting for the bikini area and 4 for underarms. Leg hair seems harder to remove permanently than either underarm or bikini hair.
April 29, 2014
Thoroughly disappointed.
I've been using this thing for about 4 months (every other week) and have hardly seen any results. My hair is slightly thinner but still very dark and visible. I've used the higher settings in attempt to get better results but all I got was discomfort. Don't waste your money
April 28, 2014
Related Searches:
Similar Products:
Also check out:
$9.99

$4.99

Clearance!

(9 Reviews)
$10.99

Free Standard Shipping

(22 Reviews)

$24.99

$14.99

Clearance!

(2 Reviews)

$19.99

Exclusively Ours

(2 Reviews)