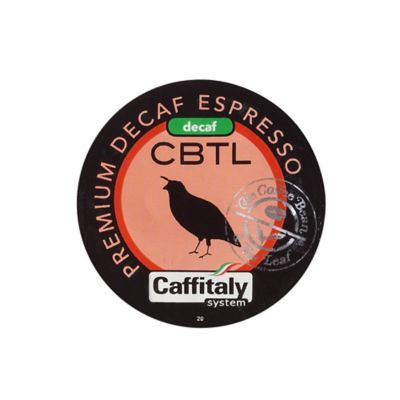 The Coffee Bean and Tea Leaf® CBTL™ Decaf Espresso Coffee Capsules
To lock in these delicate aroma and flavor characteristics, every capsule of our espresso, coffee and tea is freshness sealed and each features an internal two-filter system to ensure evenly balanced extraction and optimal flavor cup after cup.
Capsules are for use with the CBTL Single Serve Beverage System (sold separately).
Box of 16.
SKU # 18746433
The Coffee Bean and Tea Leaf® CBTL™ Decaf Espresso Coffee Capsules
11
11
CBTL
CBTL coffee capsules are great! The coffee is high quality with great flavor and easy to use. The coffee is so much better than any Keurig brand! Nice to have it shipped to my home.
September 22, 2014
Best "Easy" Espresso System
I purchased the CBTL espresso machine last November and I love it. Use it daily , it's easy to maintain and makes consistently good espresso every time. The pods are good quality coffee as expected from CBTL. My only holdback is that the company does not offer an organic coffee choice in this system.
September 15, 2014
Taste Just Like the coffee House
I love this espresso! I can only drink decaf, since regular gives me the jitters. In my opinion, this espresso makes an identical decaf vanilla latte from CBTL. I add hot frothed milk (using my microwave and blender), and add Torani sugar free vanilla syrup and its identical in taste and consistency to the coffee house made drink. My husband who is a Starbucks snob agreed it was delicious! My friends have been so impressed with their latte`s that they want the CBTL machine too!
November 9, 2013
Very Good Decaf Espresso
As others noted, the capsules fail to work on occasion. We just press the brew button again (ie a 2nd time), and it works every time, and does not alter or negatively affect the taste. I agree we shouldn't have to press it a 2nd time, but it is a very easy step to do. Since the capsule design helps to maintain freshness (of the decaf espresso), No complaints here. I wish they would create a decaf for the Italian Espresso flavor.
October 27, 2013
Decaf Espresso
This is simply the best decaf espresso. My coffee drinking friends and family prefer this decaf to their regular coffee. My main reason for buying the CBTL coffee maker was to be able to use this product. .
July 18, 2013
Impressive!
It was quite a surprise to find a decaf espresso could taste and look as good as a regular. This is outstanding, I have to admit I am impressed.
December 13, 2012
All Espresso capsules fail
@itsaboutcoffee, I agree, except we've had the same experience with all espresso capsules. I've wasted 3-4 capsules per box sometimes! The water gets started and dribbles out a bit, but for some reason the machine stops. I called the company because I noticed the espresso capsules aren't punctured on the bottom like the coffee ones are. They said it's to maintain freshness. I haven't tried the decaf yet, but based on the other reviews I'm in for one!
November 24, 2012
It's been our experience that the decaf espresso capsules are not as successful as the regular espresso. They begin to process and then don't finish. Usually several capsules per box will fail. We have no problem with brewed decaf or regular espresso. I won't buy decaf espresso in the future.
June 11, 2012
Related Searches:
Similar Products:
Also check out:
$11.99

Free Standard Shipping

(21 Reviews)

$11.99

Free Standard Shipping

Exclusively Ours

(16 Reviews)

$10.99

Free Standard Shipping

(26 Reviews)

$59.99 - $129.99
(9 Reviews)

$13.99

Free Standard Shipping

Exclusively Ours

(5 Reviews)

$12.99

Free Standard Shipping

(14 Reviews)

$10.99

Free Standard Shipping

(124 Reviews)

$11.99

Free Standard Shipping

Exclusively Ours

(28 Reviews)