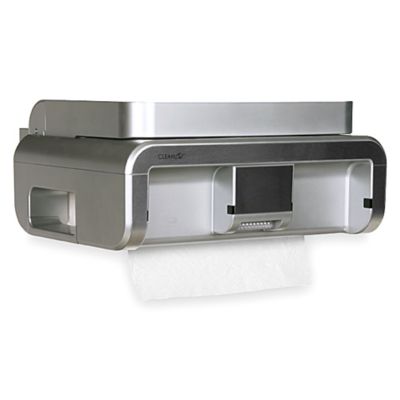 CLEANCut® Touchless Paper Towel Dispenser in Stainless Steel
The CLEANCut® sensors instantly recognize and react to your hand.
Because you don't have to touch anything, there is no inadvertent spread of germs and bacteria! And regardless of perforation, you can decide how long or how short of a piece you need.
Includes power adapter, dowel rod, and mounting hardware.
UL listed.
Measures 6 3/4" H x 16" W x 11 5/8" D.
SKU # 17798430
CleanCut Touchless Paper Towel Dispenser
What is this?
Oh, my new CleanCut. Here.
Clean what?
It's the CleanCut Automatic Paper Towel Dispenser.
Cool. What do you use it for?
Oh, everything. We use it more than any other appliance in the house.
Do you need special paper towels for it?
No, I can use any paper towel I choose, and check this out. It doesn't matter where the perforation is, you can cut any length of paper towel perfectly, without touching anything.
The CleanCut Automatic Paper Towel Dispenser is not a gadget. Dispensing and cutting is fast and easy, and when you're preparing a meal, there's no more spreading germs. You only touch the exact amount of paper towel you'll need, and the rest of the roll stays clean and dry. CleanCut will make your kitchen a safer place, and the safe, self-sharpening rotary blade makes for a clean cut every time.
My whole family uses it.
Boy: Hey, Mom.
Hey. See?
I want one.
Experience the convenience, speed, and savings of touchless paper towel dispensing for yourself, with the revolutionary, new CleanCut Automatic Paper Towel Dispenser, the most used appliance in your home.
CLEANCut® Touchless Paper Towel Dispenser in Stainless Steel
6
6
I must say I was excited to receive my Cleancut Touchless Paper Towel Dispenser in the mail. However, I do not like how it does not cut exactly on the perforated lines. And for me it was not easy to install.
May 27, 2014
CLEANcut touchless return
Sorry, had to return it as it did not fit under my cabinets
July 15, 2012
Great Product
I read the review on this product and was a little weary about buying just for the installation issues, however we had no issues installing this under our cabinets at all. The screws were just a little difficult to line up but that was it. We have used this every day since installed and its actually been so easy for the kids to use and we have used less paper towels since having it. The idea that i dont have to touch anything with gross hands while cooking is so nice. The kids get just the amount they need at the time and have learned to conserve. I would highly recommend this product.
November 23, 2011
Great Product
A GREAT product. A bit difficult to install, but well worth the extra effort. Easy to load and a pleasure to use. A little pricey, but worth it.
November 13, 2011
Fun Product to Use
Okay this is an expensive luxury but it is fun to use and you will save money on paper towels. It may take several years but it will eventually pay for itself since you will use shorter paper towels than you currently use. It's major drawback is that mounting it properly takes some time and some skill. If your not handy with a drill and mounting something accurately than ask someone for help or buy a standard product. There is also a very short learning curve in using the product. You have to open the product FULLY to load paper towels. You have to thread the first paper towel through a roller and grab it when it passes through. From then on, it is a pure delight. Wiggle a finger across the right window and it feeds a towel length dependent on how long your finger is in the window. You can feed a towel as small as 1 inch to whatever length you like. You don't need to buy special paper towels with special length perforations. I use a tiny paper towel to clean up a tiny spill. I use it when my hands are wet or dirty since you don't touch anything. Then move a finger to the left window and the towel is cut and held for you to grab and use. There are two windows with two touch-less sensors. If you have problems, customer support is great. I had some initial problems caused by an installation error and was able to resolve it by talking to the designer of the product. It is a new product and customer complaints have already been fixed by a design modification. If you do have a problem that they can't fix over the phone, they will send you out a replacement unit. I highly recommend it if you like gadgets, want something out of the ordinary and are willing to spend the money. Your kids will love it and you will show it off to your friends and relatives.
March 20, 2011
horriable
I bought this product for a gift for christmas. To load the product was a pain. If you need a paper towel in a hurry it doesnt help . The machine continues to jam up the towels all the time. A basic holder would be better. For the cost of way over a hundred dollars i would prefer something else. I bought this to match all my other products in the kitchen. I would never recommend this to anyone.
December 28, 2010
Related Searches:
Similar Products:
Also check out:
$26.99 - $32.99
(12 Reviews)

$69.99 - $149.99
(2 Reviews)

$7.99 - $9.99
(20 Reviews)

Twin $79.99 - Cal King $139.99

Exclusively Ours

(31 Reviews)
$399.99 - $449.99
(2 Reviews)

$14.99 - $19.99
(4 Reviews)

$24.99 - $49.99
(1 Review)