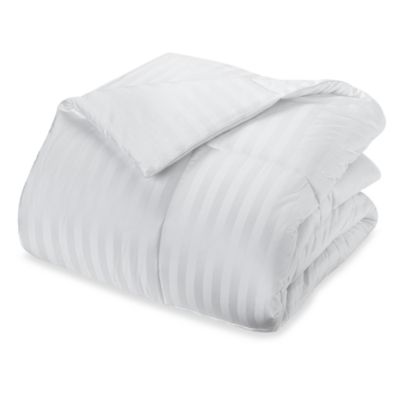 Real Simple® White Down Comforter
100% cotton.
Twin comforter measures 64" W x 88" L and has 20 ounces of fill.
Full/Queen measures 88" W x 88" L and has 27 ounces of fill.
King measures 104" W x 88" L and has 31 ounces of fill.
Dry clean.
Imported.
Real Simple® White Down Comforter
25
26
Just the thing for this cold winter
Even though I live in Texas, I have always loved sleeping under down. This comforter is exactly what I wanted. It is cozy, but not too hot. The outer shell is soft and attractive. I could not be happier with this purchase. It was a nice price as well.
February 17, 2014
LOVE it!
Ive had this on my bed now for several days and am in love with it. When I bought this, I also bought high quality sheets. My bed feels so luxurious now, I love it. Its not thick at all, but its the perfect weight. It keeps you warm, but not too warm. When I was in the store, I felt the very expensive down comforters and compared them to this one and I did not like them as well as I like this one. So even the price of this one is amazing. I would definitely recommend this comforter. Ive never used a duvet cover and am wondering how it would work with this because its white and I worry about it getting dirty.
January 9, 2014
It's not like the best quality of down comforter from any other down comforters, this is okay item! :) I like it! I recommend it to other students who just want to try down comforter!
January 2, 2014
Feathers Galore
Everything about this product is great EXCEPT the feathers. The feathers go everywhere... and I mean EVERYWHERE. I didn't see many negative comments... so I have to wonder if I just got a bad blanket, or if down comforters really shed that way. I would recommend the blanket if you buy a duvet to cover it.
December 22, 2013
Excellent!
I love it! Even better than expected. Light and warm, and great price!
December 4, 2013
Worst
Within a few weeks of having the comforter it began shedding feathers everywhere.
November 29, 2013
Excellent purchase
We bought the king size down comforter and it fits our king-size bed nicely. Others have commented on the sizing but I think it may be a personal preference to have it cover more of the bed. The warmth is great for the fall weather we're starting to get in Ohio and we're very happy with our purchase.
October 14, 2013
Great buy on a good comforter
I bought two twin comforters for our King size bed - that way my husband can roll around all he wants, and I am still covered by my own comforter. We've done this for years and finally wore our old ones - the Real Simple comforter is very good quality and exactly what we needed. Bought the last one in the store and ordered the second one at the store to be delivered to my home. Got it the next day. Very pleased with the whole experience and are very happy with the comforters.
September 14, 2013
Related Searches:
Similar Products: