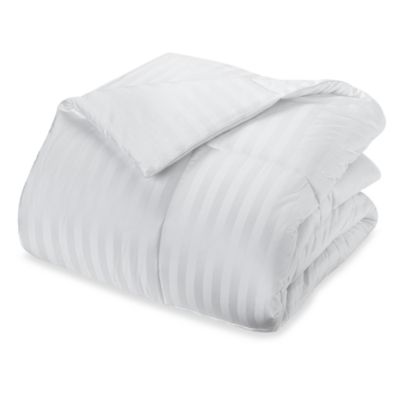 Real Simple Twin Down Comforter in White
100% cotton.
Twin comforter measures 64" W x 88" L and has 20 ounces of fill.
Full/Queen measures 88" W x 88" L and has 27 ounces of fill.
King measures 104" W x 88" L and has 31 ounces of fill.
Dry clean.
Imported.
SKU # 40125305
Real Simple® White Down Comforter
32
34
Great value. Quality better than expected. Pleasantly surprised.
November 5, 2014
Love this comforter!
So cozy and warm! Not too heavy but does a perfect job!
November 3, 2014
good sleeps
very happy with the weight, the feel and the warmth of the comforter
October 27, 2014
Love it.
This is the perfect softness and fullness at the same time. It looks and feels great! Would buy another if I needed more for any other room :)
September 26, 2014
I am an expert on these comforters
So I have owned 8 or so of these, either Full/Queen or Kings. Originally, any size was $99 and they were made as Royal Velvet, now Real Simple, exactly the same thing, just priced more for the larger sizes.... I take my bedding and my sleeping very serious, so what I do is put one under me and one over me, using the older one below. The top one will be the newest and last about 18months then becomes the bottom one for another 18 months. I use the 3year old ones in my vehicle as I have a Kia Sorento and can sleep in the back like camping on an air mattress at the beach sometimes or on dates :) Eventually I toss them as they get too thin, butt that is after years of use daily. Anyways, I do not use any covers on the comforters or any other sheets or blankets. I do wash them at the laundry mat in a front loader and will even use bleach. They do get "ruined" over time and after washing they are not quit the same but what to do, they have to get washed. (The crinkly noise they make when new goes away with use as the cotton softens up, FYI. I don't know what I would do if they stop making these things. My life/sleep depends on them. I get the room real cool/cold then put the fan on my head and wrapped between 2 of these, I am gone!!!! Nothing has improved my quality of sleep more than sleeping (naked of course), directly between 2 of these. Perfect body temp thanks to cotton and ducks! They trap just the right amount of body heat but release the rest. Soooo, from someone who has owned around 8 of these, (I am looking at 3 right now and am going to get another with the 20% off as a treat for a recent job well done ..... just get one now! Oh, and the feathers .... some have never shed a feather while others did over time due to getting thin and popping a hole somewhere. It seems the Real Simple version is better with not leaking feathers so no worries. Yeah I am a guy and passionate about these comforters, no sleep problems is heaven!!! Just looking at them has conditioned me to start to go down.....zzzzzzzzzzzzzzzzz.
September 20, 2014
It's great! A lot warmer than I thought it would be. But super great!
September 8, 2014
Comfortable Blanket
I have had this blanket for a week now, and loved it the very first night. It is warm but not hot, which is what I have been looking for. I am tired of burning up when I sleep. Also, it is not too heavy and it breathes. Good choice !
September 8, 2014
Just the thing for this cold winter
Even though I live in Texas, I have always loved sleeping under down. This comforter is exactly what I wanted. It is cozy, but not too hot. The outer shell is soft and attractive. I could not be happier with this purchase. It was a nice price as well.
February 17, 2014
Related Searches:
Similar Products: