Solofill® MySoloPad Automatic K-Cup® Dispenser
It has a glass top for easy cleaning and an elegant slim pad design that complements today's contemporary lifestyle.
Measures 13.75" W x 15.25" D x 2.50" H.
SKU # 40211626
Solofill®  MySoloPad Automatic K-Cup® Dispenser
9
11
This product is very convenience
you can store this item under the coffee maker, stand it behind the coffee maker or if space is limited you can stand it in a corner the coffee just pops out you'll love this item for storage of your coffee
September 3, 2014
Simply The Best
Husband bought me a Keurig for Christmas so I went to the local BBB and found this. Stores the pods neatly and is a breeze to load. Saves space on the counter and just looks nice.
January 4, 2014
MysoloPad
My daughter gave this to my husband. We sit it on the counter. We have had it for almost two years and have not had a bit of trouble with it! I purchased one for our parents. He loves the easy access to his coffee. Per other reviews those that have placed it vertically have had the glass break. If you plan to use this item PLAN to place it on the counter and not a wall.
July 12, 2013
middle of the night scare
The entire unit came apart in the middle of the night and exploded all over our kitchen. We had to clean up shards of glass from everything. It appears that the front and back or top and bottom pieces simply separated. We had it against a wall vertically as one of the pictures showed on the packaging. Not recommended. Probably safer to keep horizontal on a counter.
May 2, 2013
GREAT PRODUCT
This is a great product. It easily dispenses the K-cups. I love that you can place it in many positions so that it is out of the way as far as taking up space.
April 4, 2013
Great
Great product, just wish it held more. Very space saving as well.
March 14, 2013
Conditional Recommendation
I have purchased this product and, while I absolutely loved it, I was surprised at how easily the top broke during cleaning. Additionally, I had somehow missed that this was actual glass in the top...I had glass splinters in my feet, as did my two dogs. Luckily I do not have small children anymore. I have contacted the manufacturer about the same and have asked if there is a way to find a more durable material for the top? This was just a regular cleaning where it slipped from dish drainer to counter-top and broke into a thousand chunks with minuscule splinters i could not see...
March 10, 2013
Bought the My Solo Pod Automatic K-Cup Dispenser as I have the lower top cabinets that on the 3.5" storage units were too high. The My Solo Pod fits perfectly and stores quite a bit of K Cups. So Happy that I found this on the BBB Internet and was able to order it. Love It. Clean lines and the Keurig fits on the top and makes for a neat appearance on my counter top.
January 23, 2013
Related Searches:
Similar Products: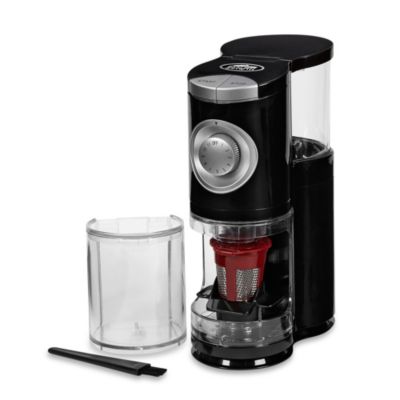 Solofill® SoloGrind 2-in-1 Automatic Single Serve Coffee Burr Grinder
Price:
$49.99
Brand:
Solofill
Categories:
Holiday & Gifts > Gift Shop > Gifts for the Kitchen
Both innovative and convenient, the Solofill® SoloGrind is industry's first automatic single-serve coffee grinder. Unit automatically grinds, then drops a precise amount of coffee into a single-serve Solofill® cup at a touch of a button.
Also check out:
$36.99

Free Standard Shipping

(207 Reviews)

$31.99

Free Standard Shipping

(18 Reviews)

$11.99

Free Standard Shipping

(50 Reviews)

$11.99

Free Standard Shipping

(46 Reviews)

$11.99

Free Standard Shipping

(180 Reviews)

$11.99

Free Standard Shipping

(21 Reviews)

$11.49

Free Standard Shipping

(99 Reviews)

$10.99

Free Standard Shipping

(81 Reviews)
$9.99 - $12.99
(14 Reviews)