Calphalon® 13-Inch Universal Splatter Screen Guard
Because it's constructed of stainless steel, it cleans up easily and won't rust.
Dishwasher safe.
SKU # 17435620
Calphalon® 13-Inch Universal Splatter Screen Guard
20
23
A must-have tool for stove top cooking
Best splatter shield I've ever had in my life! The top is designed with slightly depressed circular area that I can use to place another pan to warm food, or to keep cooked foods hot while I continue to use the pan covered by the shield. Easy to clean and heavy duty. A masterpiece kitchen tool.
September 15, 2014
Works well; doesn't "snap on" but fits snugly on each size of skillet.
August 13, 2014
Recommended with qualifications.
Like other reviewers, I noticed that this does not let enough steam escape. I tried it when making popcorn on the stove top and the popcorn was tough, an indication that the pot retained too much steam. Then I got an idea. I use this along with an old cheap guard that we call the tennis racket. The old one goes on the bottom and stops some splatter. The new one goes over the old one. This further prevents splatter, plus it lifts Calphalon up off the pot a bit so that more steam can escape. The two of them together prevents splatter and vents the steam. I got this idea from an old cheap aluminum thing that works great. I got it from my parents, so it is ancient and falling apart. It had 2 layers. I wish I could find another one like it, but it no longer seems to exist.
August 11, 2014
Fabulous. Best Splatter Screen Ever...
I bought this splatter screen based on the reviews I read on Amazon, and I'm glad I did because the reviews on BBB alone would have deterred me. I don't have Calphalon cookware, so I was worried about it fitting other cookware brands but it works great with everything I have tried it with. Having gone through countless of those wire splatter guards that seem to tear within days of purchase, I decided to look for are more durable splatter screen. This one fits securely on any size pot or pan, is light weight yet sturdy, and cleans up easily by hand washing or in the dishwasher. It is a very good quality, well designed product that I'm glad to have.
March 15, 2013
Too big; not see through
This is too big for my largest All Clad pan which surprised me. It doesn't fit into the handle, so it is awkward to use. Plus, since it isn't a screen, you get more steaming of the food which isn't what you want when frying.
January 17, 2012
Great Lid!
I really like this lid. It is versatile, cleans easily with a circular brush and really keeps splatters contained.
November 16, 2011
Durable
Love the size and the durable quality of the splatter guard and the ease of washing it. But it holds moisture in and it drops back into the pan which isn't so great if you are frying.
July 16, 2014
As good as it gets
Perfect size to cover my grill pan and does what it supposed to do!
October 1, 2013
Related Searches:
Similar Products: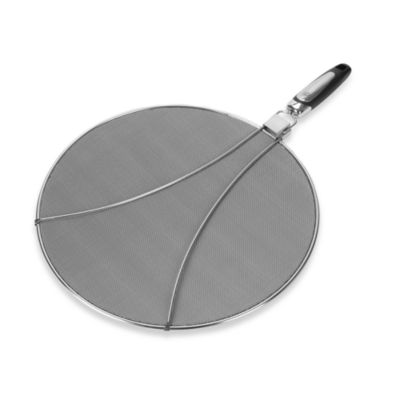 Splatter Screen 13-Inch Odor Absorbing with Collapsible Handle
Price:
$14.99
Categories:
Kitchen > Oven, Stove & Microwave
This innovative screen absorbs and traps unwanted cooking odors while keeping your stove and counters splatter-free. It allows steam to escape, fits over most pans and is dishwashers safe.
Also check out:
$9.99

Beyond Value

Exclusively Ours

(9 Reviews)

$10.99 - $18.99

Beyond Value

(37 Reviews)

$49.99

$50 Bonus Gift card with $300 Calphalon Purchase

Beyond Value

(67 Reviews)

$6.99

$50 Bonus Gift card with $300 Calphalon Purchase

(8 Reviews)

$6.99

$50 Bonus Gift card with $300 Calphalon Purchase

(12 Reviews)

$99.99

$50 Bonus Gift card with $300 Calphalon Purchase

(68 Reviews)
$99.99

$79.99

$50 Bonus Gift card with $300 Calphalon Purchase

Price reflects $20 instant rebate

(38 Reviews)

$14.99

Calphalon Promo

$50 Bonus Gift card with $300 Calphalon Purchase

Exclusively Ours

(12 Reviews)

$9.99

Beyond Value

(30 Reviews)

$399.99

$339.99

$50 Bonus Gift card with $300 Calphalon Purchase

Price Reflects 15% instant rebate

(120 Reviews)

$129.99

$50 Bonus Gift card with $300 Calphalon Purchase

(2 Reviews)
$158.99

Available While Supplies Last