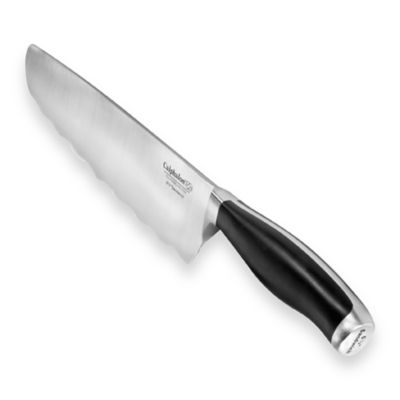 Calphalon® Contemporary 6 1/2-Inch Sandwich Knife
Explore it:
Long-lasting durability is obtained with precision forging of blade, bolster and tang.
Due to the high carbon, no-stain steel from tip to tang, knife sharpens easily and maintains its edge longer.
Sandwich knife with contoured comfort-grip blades is balanced for efficiency and comfort.
Lifetime warranty.
SKU # 17643002
Related Searches:
Similar Products:
Also check out:
$24.99

$50 Bonus Gift card with $300 Calphalon Purchase

(21 Reviews)

$34.99

$50 Bonus Gift card with $300 Calphalon Purchase

(35 Reviews)

$34.99

$50 Bonus Gift card with $300 Calphalon Purchase

(14 Reviews)

$26.99

$50 Bonus Gift card with $300 Calphalon Purchase

$44.99

$50 Bonus Gift card with $300 Calphalon Purchase

(3 Reviews)

$74.99

$50 Bonus Gift card with $300 Calphalon Purchase

(2 Reviews)

$49.99

$50 Bonus Gift card with $300 Calphalon Purchase

$39.99

$50 Bonus Gift card with $300 Calphalon Purchase

(4 Reviews)

$89.99

$50 Bonus Gift card with $300 Calphalon Purchase

(4 Reviews)

$29.99

$50 Bonus Gift card with $300 Calphalon Purchase

(4 Reviews)

$44.99

$50 Bonus Gift card with $300 Calphalon Purchase

(3 Reviews)
$8.99

Free Standard Shipping

Oversized
(1 Review)

$34.99

$50 Bonus Gift card with $300 Calphalon Purchase

(49 Reviews)

$10.99

$50 Bonus Gift card with $300 Calphalon Purchase

$12.99

$50 Bonus Gift card with $300 Calphalon Purchase

$39.99

$50 Bonus Gift card with $300 Calphalon Purchase

(43 Reviews)

$59.99

Free Standard Shipping

(25 Reviews)

$299.99

$50 Bonus Gift card with $300 Calphalon Purchase

(16 Reviews)

$199.99

$50 Bonus Gift card with $300 Calphalon Purchase

(52 Reviews)

$29.99

Beyond Value

Great Value

(10 Reviews)