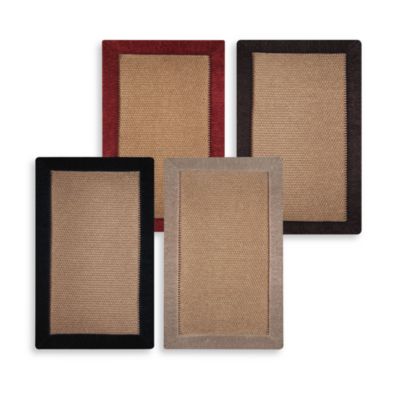 Microdry® Ultimate Luxury Border Memory Foam 2' x 6' Rug
This beautifully designed luxurious memory foam rug has a multi-textured weave for both softness and durability
Top surface is 100% olefin
Fill is 100% polyurethane
Bottom surface is PVC and polyester
Indoor use only
Non-skid backing
Non-reversible
Spot clean
Imported
Microdry® Ultimate Luxury Border Memory Foam Rug
If you are looking for an accent rug to place at your home that is luxurious and comfortable the Microdry fiber rug is a great choice.
These rugs are constructed of innovated memory foam for the ultimate and comforting and incredible cushioning.
The multi-textured weave on top provides softness and durability. And a backing is like built in rug path so it is skid-resistant.
These rugs are perfect accents to place anywhere in your home.
You can find these rugs in a sort of sized cellars. The Microdry Luxury Ultimate Memory Foam Rug is available on line at a Bed, Bath and Beyond store near you.
Microdry® Ultimate Luxury Border Memory Foam Rug
8
8
Love These
We love these bath mats! They are so cushy and comfortable while grooming.
July 3, 2014
Not a Durable Rug
I bought 2 of these rugs and in less than a year the fabric around the edge of both of them became frayed. There are only 2 people who use this bathroom, so there's no excuse for them becoming so quickly worn. The "memory" doesn't last for very long either, so it quickly ends up feeling like you're just walking on any other area rug. Too pricey for a rug that can't withstand minimal traffic.
March 3, 2014
This product is not non-skid as stated.
The main reason I bought this rug was for the non-skid feature. I like the looks and feel of the rug but am very disappointed that it is not non-skid which is the reason for my rating. I would return it but threw the main packaging label away.
January 14, 2014
Awesome
They look and feel great! I have one in the kitchen that I bought today and just ordered another one for the kitchen in a larger size. Buy them you wont be disappointed.
March 9, 2013
Love it
I bought this rug for our hot tub room, so it's constantly getting wet. It dries completely and looks fabulous. I moved it to our kitchen because it's incredibly comfortable to stand on for long periods of time, and I have since decided that I'm going to purchase a second one for our kitchen (probably a third, as well). We did spill pancake batter on the rug, and it came out completely. The fabric is such that it hides a lot. I am extremely satisfied with this purchase.
October 1, 2012
Don't buy
We have a handicapped child and this rug was the answer to our prayers. It was attractive, soft and we didn't think he would be able to damage the edges. He got home from school and sat down to play with his toys. After playing on it for a few hours it already had stains where he had drooled on it. However, the most noticeable stain was from a small cup of water where the condensation has left a big spot. We let it dry to see what happened and it was still marked. I am very disappointed in this rug and I will be returning it tomorrow morning!
May 25, 2012
Sadly had to return
We loved the look and feel of this rug, it's really soft and comfy. But the tag says "spot clean", but as soon as I spilled water on it I knew it had to go back. It took a week for the spot to dry but the stain never really went away.
May 23, 2012
Great idea, poor execution
We were so excited when we received this rug as we had been looking for a soft area rug for our bathroom. To our disappointment in less than 24 hours after we put it down it was already stained with water droplets just from washing our hands then reaching for the towel. I can't believe a "microdry" rug actually stains this way. Will be returning for a full refund. (There are obviously issues with this rug because the ones in store were stained with paint according to the sales team.)
January 24, 2012
Related Searches:
Similar Products:
Also check out:
$24.99 - $49.99
(2 Reviews)

$14.99 - $54.99




$14.99 - $39.99

(2 Reviews)

$14.99 - $54.99




$14.99 - $39.99

$39.99 - $299.99

Exclusively Ours

$29.99 - $59.99




$14.99 - $34.99

Clearance!

(2 Reviews)

$29.99 - $59.99




$14.99 - $34.99

Clearance!

$24.99

Exclusively Ours

(102 Reviews)

$24.99

Exclusively Ours

(27 Reviews)

$14.99

Exclusively Ours

(59 Reviews)
$39.99 - $49.99
(3 Reviews)

$5.99

$50 Bonus Gift card with $300 Calphalon Purchase

(10 Reviews)

$9.99

Exclusively Ours

(5 Reviews)

$19.99

Exclusively Ours

(30 Reviews)

Twin $24.99 - Cal King $39.99

Exclusively Ours

(23 Reviews)