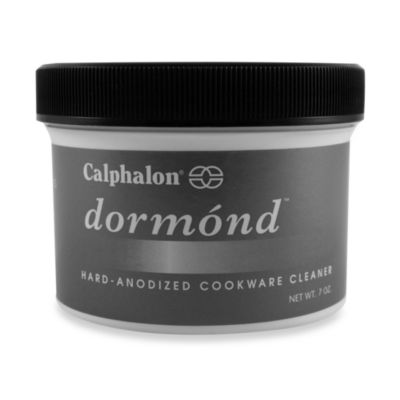 Calphalon® Dormónd Hard-Anodized Cookware Cleaner
Use this Calphalon® Dormónd Hard-Anodized Cookware Cleaner on traditional hard-anodized surfaces only
Rinse with warm water and dry
For best results, apply a small amount to a damp pad and use a circular motion to gently scour surface
Not recommended for use on dishwasher-safe hard-anodized, stainless steel or nonstick surfaces
Do not use with Calphalon® Unison Nonstick or dishwasher safe Calphalon® Contemporary Nonstick cookware
7 oz. capacity
Made in USA
SKU # 10935091
Calphalon® Dormónd Hard-Anodized Cookware Cleaner
10
13
Love it
I used at a friends recently and am placing an order for my own kitchen right now.
October 15, 2014
Works really great!
Haven't used it on my Calphalon yet, but tried it on an old skillet that had a lot of cooked on grease. Cleaned it remarkably well; still needed a little elbow grease, but that's to be expected. Not real rough on your hands either, although I should have used gloves.
September 12, 2014
Magic Cleaner
It is all the hype. I won't go back to using normal dish soap for my Calphalon.
July 5, 2014
did not work, tried 3 times
I tried to use this product because for the price I thought it has to work, but noo, did not clean the burn marks off my pots, what a waste of money.
May 31, 2014
I have not used it yet.
I hope that it works well. I will let you know after my next purchase, as I will have used this product by then.
February 16, 2012
I have been using this product for over 10 years and still find it an excellent cleanser for my Calphalon commercial cookware. Thank you for keeping it available.
January 25, 2012
Dormond cleaner
The one and only product I've ever found to clean caphalon. It works well but is a very expensive cleaner!
October 3, 2011
Dormand Cleanser Review
Works well in our Calphalon Cookware. It would be rated higher if the cost were somewhat lower. It has been used since our first Calphalon product was puchased severl years ago.
May 8, 2011
Related Searches:
Similar Products: