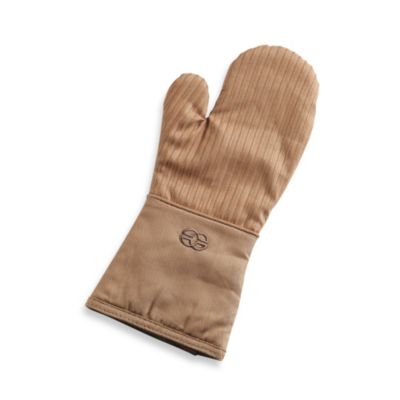 Calphalon® Oven Mitt in Biscotti
Kitchen towels and dish cloths are made from 100% combed cotton, are yarn dyed and pre-washed, and are treated with an antimicrobial agent to inhibit the growth of bacterial odors on the fabric
Oven mitts and pot holders are made from 100% heavy cotton twill and are silicone treated on both sides for left and right handed use
Silicone allows for better grip on hot cookware and is heat resistant up to 500° F
Oven mitt measures 14" L and has a flannel interior
Pot holder measures 6" W x 10" L
Kitchen towel measures 17" W x 30" L
Dish cloth measures 14" W x 14" L
Machine wash
Imported
SKU # 14623426
Calphalon® Silicone Oven Mitts
5
5
Best Yet Oven Mitt
This oven mitt is fantastic! I've bought many oven mitts over the years, and all of them managed to let the heat penetrate through them after holding the pan for a short time. I only have one oven, and when you have to move pans around to cook them evenly, while someone is helping to put other pans in, or out, or move from back to front, I would have to put the pan down for it was getting to hot to hold. This mitt doesn't let the heat through. I even spilled some very hot oil from the oven on it and I didn't get a burn. They are easy to clean, I just spot treated it with a product I use to remove grease, and washed in the washer on gentle cycle. I air dried it overnight. It now looks like new. I highly recommended these mitts.
October 6, 2014
Feel the Heat
Received these off of my bridal registry. Was so excited to use them, as my older ones (different brand) have seen better days. One use and I will be returning them! I was removing a cookie sheet from a 450°F oven and could feel the heat and burn through these oven mitts! I'm thankful I was just removing something as light as a cookie sheet, or else I could have dropped the item because these mitts did not block the heat.
August 10, 2014
Perfect thick oven mit
I do a ton of baking and this is the perfect thick oven mitt that doesn't burn your hands. Couldn't ask for anything better
July 10, 2014
Oven Mitt
Some oven mitts overwhelm my hand by being much too large and I feel like I can't get a grip on the hot item I'm trying to remove from the oven. This mitt fits my hand much better and the silicon stripes help with the grip.
April 29, 2014
Awesome Oven Mitts
Received a pair for my Birthday in January which I asked for a pair of oven mitts. They are comfortable, not bulky & durable. They go pretty far up on my arm which saves me from getting burns from the electric oven. My whole family loves them and I'm planning to purchase an additional pair.
March 9, 2014
Related Searches:
Similar Products: