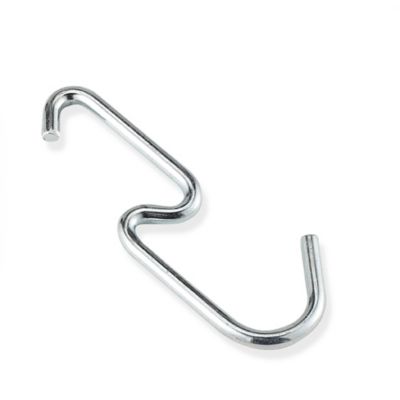 Calphalon® Single Hook Pot Rack Hook (Set of 2)
Calphalon® Single Hook Pot Rack Hook (Set of 2)
5
6
this product is great
if I had to purchase this again, I would purchase the double hooks. I did not realize that with the double hooks I could hang the pot on one side and the lid on the other side. As soon as my local store has these in stock again I am going to purchase a few double hooks.
January 2, 2014
Just like the originals......
I am remodeling this kitchen containing the about 20 year old pot rack. Unlike some of the reviews that I read on-line, the products you supplied appear to be indistinguishable from the originals and they fit onto the rack, just fine.
November 14, 2013
Overpriced but work well
These are ridiculously overpriced, but they work well, just as the hooks that came with my Calphalon pot rack.
January 30, 2012
One hook good, one hook didn't fit
One hook fit on the rack just find, but the other one did not. I had to use my Dremmel tool to grind the cast metal on the hook enough to get it in the groove on the rack. This was not fun.
April 4, 2011
Doesn't Fit
One of the hooks does not fit on the rack. The other hooks fit fine and fullfill their requirements.
March 31, 2011
Related Searches:
Similar Products:
Also check out:
$6.99

$50 Bonus Gift card with $300 Calphalon Purchase

(3 Reviews)

$139.99

$50 Bonus Gift card with $300 Calphalon Purchase

(3 Reviews)

$139.99

$50 Bonus Gift card with $300 Calphalon Purchase

(4 Reviews)

Twin $19.99 - Cal King $34.99
(2 Reviews)

$24.99

Excluded from Pack and Hold

(4 Reviews)

$10.99 - $19.99
(11 Reviews)
$24.99 - $39.99
(6 Reviews)

$5.99

$50 Bonus Gift card with $300 Calphalon Purchase

(11 Reviews)

$39.99

$50 Bonus Gift card with $300 Calphalon Purchase

(34 Reviews)

$14.99

Calphalon Promo

$50 Bonus Gift card with $300 Calphalon Purchase

Exclusively Ours

(10 Reviews)

$399.99

$50 Bonus Gift card with $300 Calphalon Purchase

(99 Reviews)

$44.99

$34.99

Clearance!

(24 Reviews)

$9.99 - $24.99
(7 Reviews)

$144.99

$115.99

Clearance!

$50 Bonus Gift card with $300 Calphalon Purchase

Price reflects 20% instant rebate

(4 Reviews)