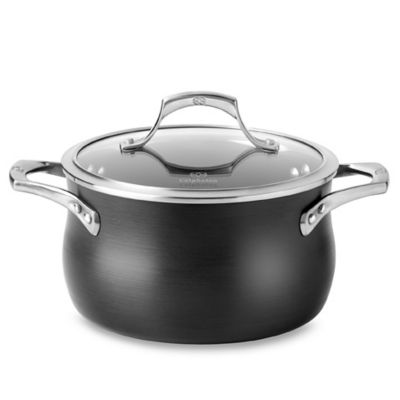 Calphalon® Unison™ Slide Nonstick 4-Quart Soup Pot
Revolutionary Slide Nonstick surface releases food effortlessly, essential for creating tender omelettes and delicate sauces
Specially textured Sear Nonstick surface seals in flavor to create juicy braised beef, tuna, and vegetables
Each surface is designed to enhance the specific cooking purposes of the pan
Hard anodized exterior with a nonstick interior
Oven safe to 500° F
Dishwasher safe
Lifetime warranty
SKU # 16613452
Calphalon Unison Nonstick
I'm Iron Chef Michael Simon, and I'm going to talk to you about the latest revolution in nonstick cookware, Calphalon Unison Nonstick. What makes Calphalon Unison Nonstick so unique is it has two surfaces; slide nonstick and sear nonstick. So the great thing about the Calphalon Unison sear pan is in traditional nonstick, you just don't get the sear on meat that you'd like. Look at that. You get the great professional sear results all in a nonstick pan. And another great thing about the Calphalon Unison Nonstick is it could go right in the oven. So off the stove, right in our hot oven, and we're just going to let that stay finishing up.
Slide nonstick is a revolutionary ultra smooth surface perfect eggs, omelets, and sauces. So we have our great pan roasted steak, and our over easy egg topped with blue cheese, right on top of the steak. Look at this. It slides right out cheese and all. And you get professional results with easy clean up because Unison Nonstick is dishwasher safe. And each surface enhances the specific purpose of the pan. Omelet pans have slide nonstick, sauté pans have sear nonstick, and every set is complete with both slide and sear pans. Calphalon Unison Nonstick. Professional results. Nonstick convenience.
Calphalon® Unison™ Slide Nonstick 4-Quart Soup Pot
82
88
Love it!
I bought a Unison set last year and have been slowly adding pieces as items I already had died. When my Berndes soup pot's interior started pitting and flaking, I immediately ordered this one. I just love it! The Unison line is the best I've owned and will continue to add to my collection.
August 4, 2014
Exactly what I was looking for
I am a single man but I cook just about everyday and also cook for family and friends. I recently moved to Florida from New Jersey and to make the move a little less intense I gave away a lot of my possessions including kitchen ware. I have been rebuilding my kitchen ware and have purchased an 12 qt, 8 qt and now this 4 qt pot. My 8 qt pot is also Calphalon and I think it is the best clad pots/pans available. I say that from personal experience. They cook evenly. The pots do not burn what you are cooking and nothing sticks to the inside of their pots. I cook spaghetti sauce for two days. 10-12 hours the first day, then refrigerate overnight and then 8-10 hours the second day. Not one spot on the inside of their pots. This last time I was making lasagna and only needed to cook a lesser amount of sauce and meat for that purpose. Used this 4 qt. pot. Same thing. Nothing sticks. Cleans up so easy it is amazing. I also have a Calphalon 3 qt. covered pot with vented glass lid and a 12" fry pan with glass lid.Totally recommend Calphalon products. Oh, by the way, I have an electric coil burner top stove. I do NOT cook on high heat. Even when I fry meats. Medium to Medium high. So, If you are going to cook on high I cannot relate and cannot comment to the performance of these pots under those circumstances.
February 17, 2014
Great addition to my new cookset
This is a great addition to my cookware set. I did some research on which cookware set is best and would last the longest and I kept going back to Calphalon. The life time warranty and dishwasher safe made these my choice. I have been using them for a few weeks now and I am very happy with my choice!
June 20, 2013
My Perfect Soup Pot
I generally prepare soup for just one or two people. I have grown weary of having to labor to use and clean 10 or 12 quart stock pots, so I wanted something smaller. Enter the Calphalon 4-Quart Soup Pot. It is the perfect size for my needs - and has a lot of bonuses I did not expect. It is most likely profoundly eccentric, but the first thing that struck me was the aesthetics of this pot. Aesthetics? Yes. This pot has the look of a Medieval cauldron with its convex bottom and concave top where the handles are attached. The handles on the pot and lid have a distictive Celtic flair to them. Maybe one could say the sensibility of this pot is medieval meets modern design. The second thing that struck me was the non-stick interior. Generally, I like to braise the meats I will use in making my soup base. That braising usually entails the use of a skillet, another implement to wash. I very quickly caught on that this pot allows me to braise the meat in the pot itself. How convenient! I find that the pot distributes heat very evenly, creating a wondeful slow simmer that allows flavors to develop. The see-through lid is more convenient and helpful than I even imagined. The soups made thus far with this marvelous pot have been untra successful. Negatives? Sure, nothing is perfect. Condensation from the lid tends to trickle down the pot in a thin line. I found that all I must do to stop the trickle is to turn the lid perhaps 1/8 of a turn, left or right. The drip stops completely. I also found that the handles do become very hot, so pot holders are necessary if moving the pot about or lifting the lid. But, that is something I do anyway. Conclusion: A lovely cooking implement that exceeds my expectations for functionality. I look forward to many happy years with this item.
February 28, 2012
Samller than anticipated
The stock pot is very nice. just didn't realize how small the 4 quart was going to be.
October 18, 2013
No question...
....that i would be pleased with my Calphalon Soup Pot. I have not had the chance to put it to use but I know I will love it as I do my other pieces. I like the see-through lid and the ease of cleaning.
October 17, 2013
Perfect little pot
Just the right size for soup/chili for two. A nice meal and not too many leftovers. And does hold a mess of greens (if not southern, means. "A lot"!!). Thanks, Calphalon, for the perfect little pot!
October 17, 2013
Lots of use with Fall coming on.
I love this pot. Soups and sauces are a breeze and easy to clean up. With Fall here, this will be my most used pot for a long while.
October 5, 2013
Related Searches:
Similar Products:
Also check out:
$99.99

$50 Bonus Gift card with $300 Calphalon Purchase

(68 Reviews)

$49.99

$50 Bonus Gift card with $300 Calphalon Purchase

(112 Reviews)

$24.99

$5 Manufacturer's Rebate Available

(25 Reviews)

$149.99

$50 Bonus Gift card with $300 Calphalon Purchase

(11 Reviews)

$99.99

$50 Bonus Gift card with $300 Calphalon Purchase

(2 Reviews)

$79.99

$63.99

Clearance!

$50 Bonus Gift card with $300 Calphalon Purchase

Price reflects 20% instant rebate

(13 Reviews)

$29.99

Exclusively Ours

(11 Reviews)

$69.99 - $89.99
(10 Reviews)