Luigi Bormioli Michelangelo 19-Ounce Maxi Footed Beverage Glass (Set of 4)
Price:
$24.99
Brand:
Luigi Bormioli
Categories:
Holiday > Holiday Entertaining > Holiday Serving
The clarity in each titanium reinforced stem of this flawlessly designed stemware adds beauty to your table setting. Made of lead-free glass. Waterford® Ballet Ribbon Essence Platinum 19-ounce Iced Beverage Glass
Price:
$79.99
Brand:
Waterford
Categories:
Ice tinkles musically in Ballet Ribbon Essence Platinum glassware, a graceful interpretation of the Waterford® tradition and accented by a bold platinum rim.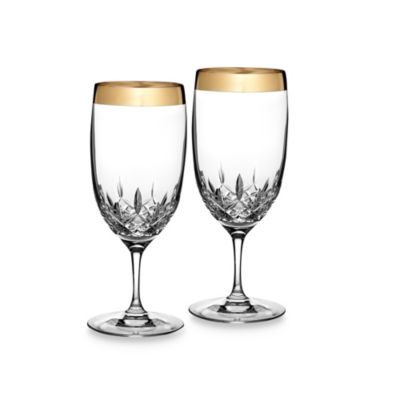 Waterford Lismore Essence Gold 19-Ounce Iced Beverage Glasses (Set of 2)
Price:
$189.99
Brand:
Waterford
Categories:
This classic set retains the brilliance and clarity of Lismore, while incorporating a more slender, modern profile. Features the signature pattern of diamond and wedge cuts that combine with modern styling to create a sense of occasion anywhere.