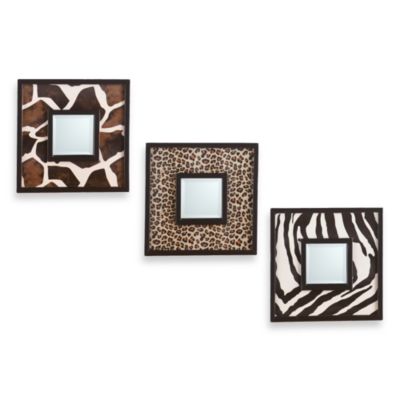 Animal Kingdom 3-Piece Mirror Set
Price:
$79.99
Categories:
Home Decor > Wall Decor > Mirrors
The Animal Kingdom 3-Piece Mirror Set features threee mirrors in leopard, giraffe, and zebra prints respectively. The animal print finish is textured faux leather and contrasts beautifully with the black inner and outer frames.
Silly Souls® #1 Baby - 4-Piece Gift Set - 3-6 months (Black)
Price:
$$39.99
Brand:
Silly Souls
Sizes:
6-12 MONTHS
Categories:
Home > Baby & Kids > Baby Gifts > Baby Gift Sets
The fun folks at Silly Souls® bring you an adorable four-piece gift set that perfectly sums up the top baby in your life. This set comes in a box that's ideal for gift giving. Set includes: bodysuit, bib and beanie, with gold screen printed #1 baby design, plus gold booties. Bodysuit, beanie and bib are made from 100% cuddly soft, machine washable/dryable cotton. Booties are made from PU athletic leather, outsole TPR rubber (vegan/no animal materials) and are machine washable. Imported.
Silly Souls® #1 Baby - 4-Piece Gift Set - 0-3 months (Black)
Price:
$$39.99
Brand:
Silly Souls
Sizes:
6-12 MONTHS
Categories:
Home > Baby & Kids > Baby Gifts > Baby Gift Sets
The fun folks at Silly Souls® bring you an adorable four-piece gift set that perfectly sums up the top baby in your life. This set comes in a box that's ideal for gift giving. Set includes: bodysuit, bib and beanie, with gold screen printed #1 baby design, plus gold booties. Bodysuit, beanie and bib are made from 100% cuddly soft, machine washable/dryable cotton. Booties are made from PU athletic leather, outsole TPR rubber (vegan/no animal materials) and are machine washable. Imported.

]