Plan Toys® Tableware Set
Price:
$29.99
Brand:
PlanToys
Categories:
Baby & Kids > Kids Toys (4 Years & Up) > Pretend Play
PlanToys® Tableware Set includes 2 plates, 2 bowls, 2 knives, 2 spoons, and 2 forks. Helps children pretend to prepare their own meals and create their own recipes.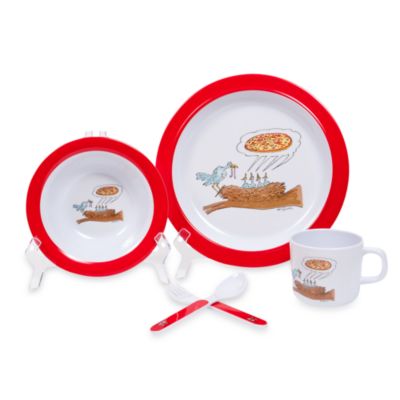 Silly Souls® New Yorker® Birds Craving Pizza in 5-Piece Dish Set in White & Red
Price:
$19.99
Brand:
Silly Souls
Categories:
A nest of baby birds dream of pizza as the mama bird feeds them worms! Illustrated by New Yorker® cartoonist Mike Twohy, this adorable gift set includes five pieces: one plate, one bowl, one cup, one spoon, and one fork.