Nikko Blue Brushstroke 4-Piece Place Setting
Price:
$39.99
Brand:
Nikko
Nikko Blue Brushstroke pairs the soft touch of the artist's brush with geometric elements in this modern dinnerware. The delicate shades of blue and contemporary design of this collection brings fresh elegance to everyday dining and casual entertaining.
Mikasa® Brushstroke 4-Piece Square Place Setting
Price:
$59.99
Brand:
Mikasa
A marriage of modern art and dining, Brushstroke allows you to transform your table into a palette. Each porcelain piece is adorned with a unique brushstroke and a solid black back to create a truly distinct look on your table.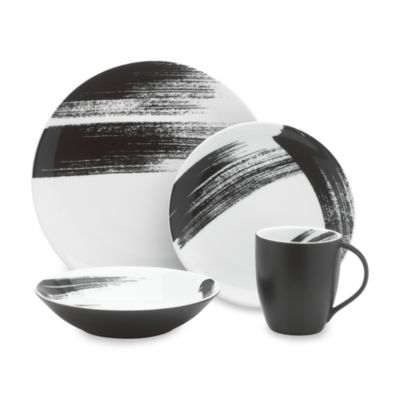 Mikasa Brushstroke 4-Piece Dinnerware Round Place Setting

Price:

$49.99

Brand:

Mikasa

A marriage of modern art and dining, Brushstroke allows you to transform your table into a palette. Each porcelain piece is adorned with a unique brushstroke and a solid black back to create a truly distinct look on your table.

]