Ravenscroft Crystal in visibles® 22-Ounce Bordeaux/Cabernet Glasses (Set of 4)
Price:
$39.99
Brand:
Ravenscroft
Categories:
Tactile and whisper light in precisely tuned shapes, these lead-free Ravenscroft Invisible® stemware glasses are the perfect wine glass for the wine enthusiast within all of us.
BergHOFF® Hotel Line Chateau 22-Ounce Bordeaux Wine Glasses (Set of 6)
Price:
$69.99
Brand:
BergHOFF
Categories:
BergHOFF® Bordeaux wine glasses are tall with a broad bowl. They are designed for full bodied red wines, such as Cabernet Sauvignon and Syrah as it directs wine to the back of the mouth.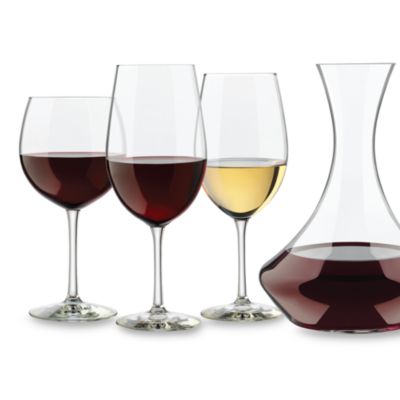 Vineyard Reserve 14-Piece Wine Set
Price:
$49.99
Brand:
Libbey Glass
Categories:
Holiday > Gifts by Price > Under $50
Vineyard Reserve 14-piece wine glass set makes a great gift. Set includes 4 cabernet glasses (22-ounce capacity), 4 chardonnay glasses (18-ounce capacity), 4 merlot glasses (19.7-ounce capacity), a wine opener and decanter.

]