Fine Lines Ceramic Lotion Pump
Pump hand lotion with a new sense of elegance thanks to the Fine Lines Lotion Dispenser. A usable accessory for your bathroom, the Fine Lines lotion pump is designed to stand out with its monochromatic purple color. .
Mystique Ceramic Lotion Pump
Make getting ready fun with the Mystique Lotion Pump in beautiful blue and brown hues. It creates a soothing effect in your bath and works with a contemporary decor.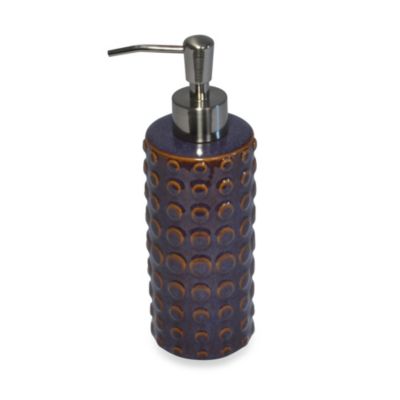 Parker Loft Dawson Ceramic Lotion Pump Dispenser in Plum
This beautiful ceramic lotion dispenser with an allover dot motif and hand-crafted glaze in warm shades of plum creates a warm, rustic environment. Coordinating accessories are available to complete the look, or makes a handsome accent piece on its own.