Also Showing Categories: Charging Station with Speakers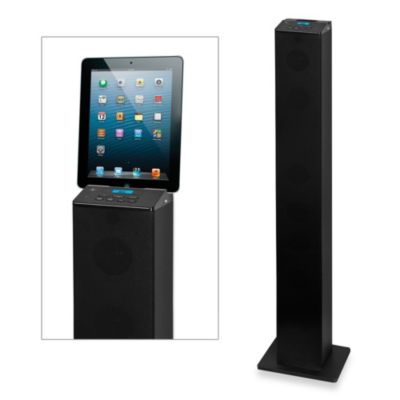 Bluetooth® Tower Speaker with FM Radio
Price:
$69.99
Categories:
Stream your music, wirelessly, up to 33 feet away with the Bluetooth Tower Speaker with FM Radio. The sleek, high powered tower also features an FM radio with 20 station presets, and a special cradle for charging tablets, smartphones, and MP3 players.
HMDX® Docking Speaker and Portable Audio System in Pink
Price:
$49.99
Brand:
HMDX
This portable audio system charges and plays your iPhone® and iPod® and also features a digital FM radio with station presets. It includes integrated remote control storage, video-out capabilities and aux-in for non-docking music devices.
HMDX® Docking Speaker and Portable Audio System in Black

Price:

$49.99

Brand:

HMDX

This portable audio system charges and plays your iPhone® and iPod® and also features a digital FM radio with station presets. It includes integrated remote control storage, video-out capabilities and aux-in for non-docking music devices.

]