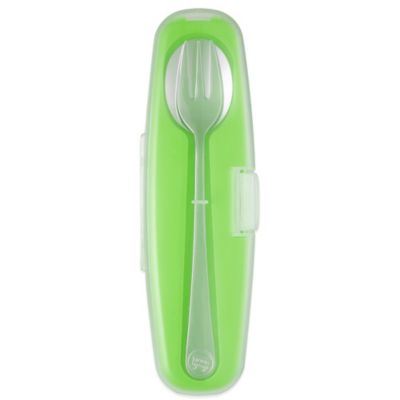 Innobaby Din Din Smart Stainless Spoon & Fork Set in Green
Price:
$9.99
Brand:
Innobaby
Categories:
Baby & Kids > Nursing & Feeding > Baby Dishes & Utensils
The Innobaby Din Din Smart Spoon & Fork Set is perfect for your school-aged child's lunch box! Utensils have long, sturdy handles and are made with 18/10 stainless steel in a high-quality finish. Comes in a carry case with enough room to hold napkins.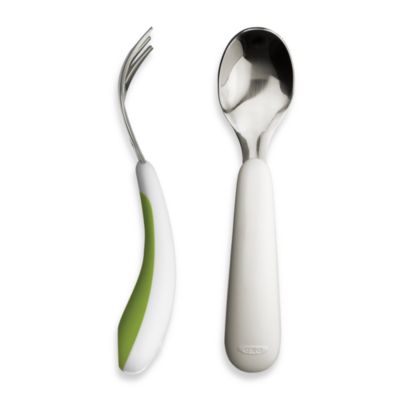 OXO Tot® Fork & Spoon Set in Green
Price:
$6.99
Brand:
oxo tot
This fork and spoon set is ideal for little ones. Handles are soft and non-slip, fork tines are effective but have no sharp edges, and the spoon is deep for easy scooping.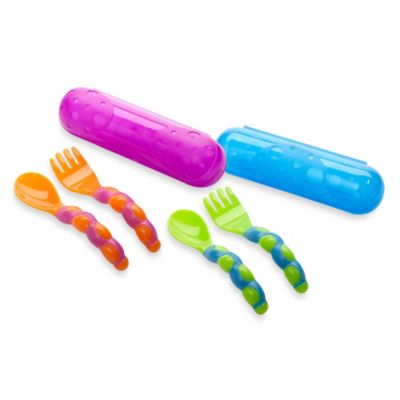 Sassy® On-the-Go Fork and Spoon Set - Blue/Green
Price:
$3.99
Brand:
Sassy
Colors:
blue/green, pink/orange
Categories:
Conveniently carry your baby's eating essentials--before and after use--in this handy, compact travel case set. Case comes with snap together toddler fork and spoon with easy-to-grip contoured handles.