Ginsey Ultimate Spiderman Soft Cushioned Potty Seat
Price:
$12.99
Brand:
Ginsey
Make toilet training fun and easy with the cushy Ultimate Spiderman Cushioned Potty Seat from Ginsey. The removable seat makes cleanup simple, while built-in handles ensure easy transport. Also equipped with a built-in deflector for the little guys.
Hamco Neat Solutions Sesame Street Potty Toppers & Wet Wipes
Price:
$6.99
Brand:
Disney Baby
Categories:
Baby & Kids > Gear & Travel > Travel Solutions
Hamco Potty Toppers and Wet Wipes with cute Sesame Street designs make potty time in public more fun and sanitary. Convenient potty toppers stick easily onto toilet seats for germ and wetness protection. The handy wet wipes are ideal for cleaning up.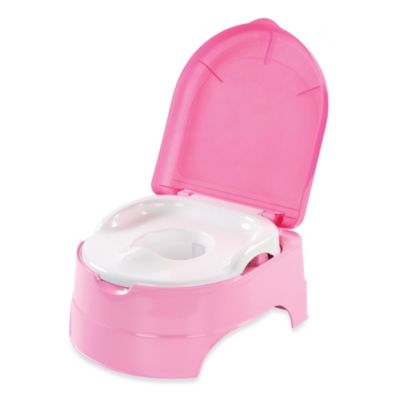 Summer Infant® My Fun Potty in Pink
Price:
$14.99
Brand:
Summer Infant
Categories:
Baby & Kids > Bath & Potty > Potty Training
The convertible Summer Infant My Fun Potty takes your little one through potty training from start to finish. It begins as a standalone potty, converts to a trainer seat for toilets, and finally becomes a step stool to sinks for good handwashing habits.