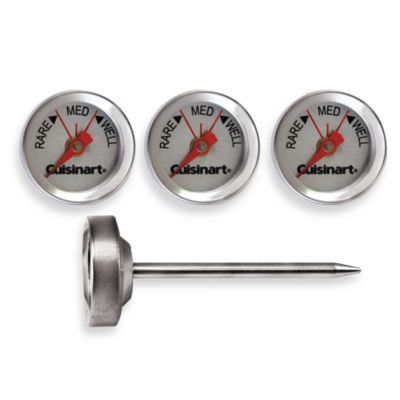 Cuisinart® Outdoor Steak Thermometers (Set of 4)
Price:
$14.99
Brand:
Cuisinart
Categories:
Seasonal > Grills & Outdoor Cooking > Grill Tools & Accessories
Outdoor steak thermometers help you monitor the internal temperature of your food so it can be cooked properly without cutting into it. Each thermometer has 2" stainless steel probes.
Meat Grilling Thermometers (Set of 4)
Price:
$12.99
Categories:
Kitchen > Kitchen Tools & Gadgets > Specialized Kitchen Tools
Cook your meat to safe temperatures using these grilling thermometers. Their rugged, stainless steel construction is safe for grill or oven use, and can be left in the meat to monitor temperature while it cooks.
Rosle Meat And Steak Thermometers - Set of 4
Price:
$34.99
Brand:
Rosle
Categories:
Kitchen > Kitchen Tools & Gadgets > Specialized Kitchen Tools
Perfect for use in a frying pan, oven or grill. Each thermometer has an easy-to-read dial indicating rare, medium or well done.

]