West Bend® Cocoa Grande™ 60-Ounce Hot Chocolate/Latte Maker
Price:
$29.99
Brand:
West Bend
Categories:
Kitchen > Specialty Small Appliances > Specialty
This family-sized Cocoa Grande™ hot drink maker mixes, heats, and froths up to 7.5 cups of hot cocoa or lattes. Convenient multiple settings include: heat and (mix) high speed, heat and (mix) low speed, froth & dispense, and cancel.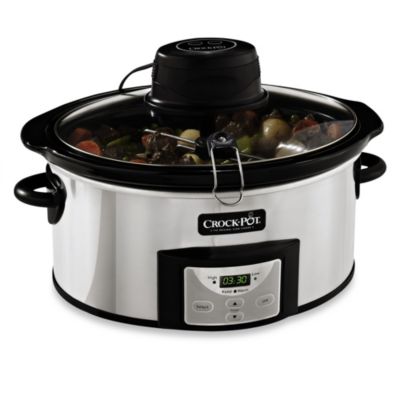 Crock-Pot® 6-Quart Digital Slow Cooker with iStir™ Automatic Stirring System
Price:
$59.99
Brand:
Crock-Pot
Categories:
Kitchen > Small Appliances > Slow Cookers
With programmable controls and automatic stirring, Crock-Pot® again raises the bar for slow cooking convenience. Innovative iStir™ system and countdown digital timer lets you perfectly cook your favorite dishes even if you're not in the kitchen.
Gro-Egg Room Thermometer
Price:
$36.99
Brand:
Gro-Egg
Categories:
Baby & Kids > Health & Safety > Health & Wellness
The innovative Gro-egg provides perfect peace of mind at a glance. It changes color to let you know at once whether the temperature of a room is too low, too high or just right, helping you maintain a safe sleeping environment for your baby.