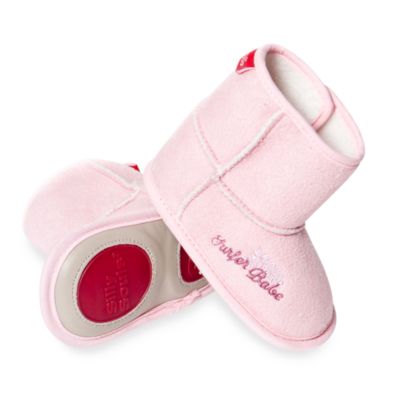 Silly Souls® Surfer Babe Boots - 12-18 months (Pink)
Price:
$19.99
Brand:
Silly Souls
Sizes:
6-12 MONTHS
,
18-24 MONTHS
Categories:
Home > Baby & Kids > Clothing & Accessories > Accessories
These cute and practical booties are stylized like the sheepskin boots worn by Australian surfers. Embroidered with the words Surfer Babe" along the edge, these booties have a full velcro closure that makes for easy wear. TPR outsole offers both traction and grip for bouncing and first steps. Perfect for indoor/outdoor use, this line of footwear is designed with simple athletic construction and fit. Boots come in a tin gift box that doubles as a lucky penny saving lunch box. Made from 100% textile. (Vegan/no animal materials.) Machine washable/air dry. Imported.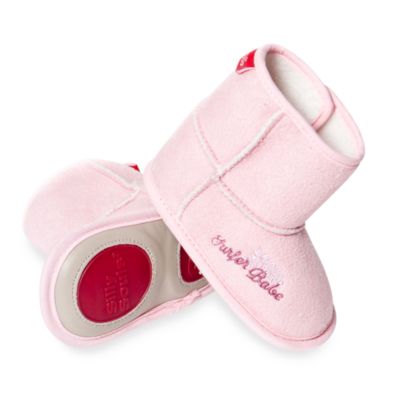 Silly Souls® Surfer Babe Boots - 0-6 months (Pink)
Price:
$19.99
Brand:
Silly Souls
Sizes:
6-12 MONTHS
,
18-24 MONTHS
Categories:
Home > Baby & Kids > Clothing & Accessories > Accessories
These cute and practical booties are stylized like the sheepskin boots worn by Australian surfers. Embroidered with the words Surfer Babe" along the edge, these booties have a full velcro closure that makes for easy wear. TPR outsole offers both traction and grip for bouncing and first steps. Perfect for indoor/outdoor use, this line of footwear is designed with simple athletic construction and fit. Boots come in a tin gift box that doubles as a lucky penny saving lunch box. Made from 100% textile. (Vegan/no animal materials.) Machine washable/air dry. Imported.

]