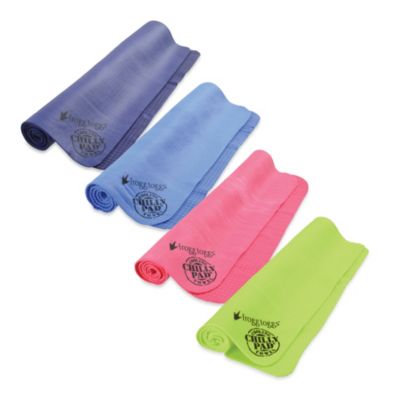 Chilly Pad® Super Cooling Towel - Red
Price:
$14.99 Each
Colors:
blue, lime green, pink, sky blue
Categories:
Home > Seasonal > Beach & Pool > Beach Towels
Whether facing the outdoor heat and/or high levels of physical activity, the Chilly Pad provides an innovative way to cool down. Perfect for anyone engaged in sports or work outdoors, the Chilly Pad is made from a hyper-evaporative material that retains water while remaining dry to the touch. When wet, the towel begins to evaporate and cool, providing cool, soft comfort to the user. When it stops cooling (about 1-4 hours, depending on conditions), you simply re-wet the towel in hot or cold water and wring it out. Within minutes, it's cool again. Machine wash.
Storksak® Olivia Diaper Bag - Berry
Price:
$197.99 Each
Colors:
black, blue, gray
Categories:
Home > Baby & Kids > Baby Gear & Travel > Diaper Bags
An absolute must-have for the working, stylish mom, The Olivia diaper bag by Storksak® features a sleek satin nylon outer shell with a faux leather trim. The chunky gold signature rings and zippers mark Storksak's® versatile fashion sense and the adjustable shoulder strap makes traveling easy. The Olivia bag includes a thermo-insulated bottle holder, a padded changing mat, a detachable inner sack and wipe-clean linings throughout. The bottle holder keeps liquids cold or hot for up to four hours. Plus, the changing mat can also be stored in the zippered bottom. The exterior houses three pockets and a cell phone pocket, while the interior holds even more pocket room. Adjustable shoulder strap included. 100% nylon with 100% cotton webbing strap. Measures 13" H x 17.5" W x 6" D. Wipe clean. Imported.
Storksak® Olivia Diaper Bag - Moss
Price:
$197.99 Each
Brand:
storksak
Colors:
black, blue, gray
Categories:
Home > Baby & Kids > Baby Gear & Travel > Diaper Bags
An absolute must-have for the working, stylish mom, The Olivia diaper bag by Storksak® features a sleek satin nylon outer shell with a faux leather trim. The chunky gold signature rings and zippers mark Storksak's® versatile fashion sense and the adjustable shoulder strap makes traveling easy. The Olivia bag includes a thermo-insulated bottle holder, a padded changing mat, a detachable inner sack and wipe-clean linings throughout. The bottle holder keeps liquids cold or hot for up to four hours. Plus, the changing mat can also be stored in the zippered bottom. The exterior houses three pockets and a cell phone pocket, while the interior holds even more pocket room. Adjustable shoulder strap included. 100% nylon with 100% cotton webbing strap. Measures 13" H x 17.5" W x 6" D. Wipe clean. Imported.

]